Nikita Season 2 Episode 10: "Guardians" Videos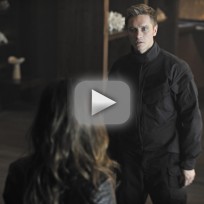 Added:
Displaying 1 video
Around the Web
Want more Nikita?
Sign up for our daily newsletter and receive the latest tv news delivered to your inbox for free!
You will find and destroy the remaining Black Boxes. I expect proof of real progress soon. Until that time, you may consider our business up for review.

Ari
Michael: You realize every law-enforcement agency in the region is on high alert, and you're chasing Ari Tasarov into the heart of Gogol territory? You don't even know where he's headed.
Nikita: Yes. But it's the right think to do.