Smallville Season 9 Episode 10: "Disciple" Videos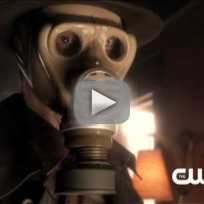 Added:
Displaying 1 video
Around the Web
Want more Smallville?
Sign up for our daily newsletter and receive the latest tv news delivered to your inbox for free!
Lois: I'm a little nervous. It was our first public outing as kind of like a couple.
Clark: Emphasis on "kind of." You wouldn't even let me help you with your coat.
Lois: I held your hand.
Clark: Only when you were taking hors d'oeuvres out of it.
Clark: You know, Lois, we could go back to the farm and take a walk. I could give you Clark Kent's tour of the galaxy.
Lois: Smallville... the only planet you know about is the one you read at the breakfast table.