TV Fanatic Works Better with Prime Instant Video
Try it Now for Free and Instantly Watch The Good Wife.
The Good Wife Season 2 Episode 4: "Cleaning House" Videos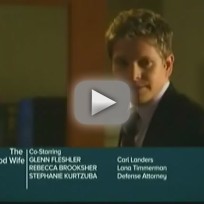 Added:
Displaying 1 video
Around the Web
Want more The Good Wife?
Sign up for our daily newsletter and receive the latest tv news delivered to your inbox for free!
Glenn Childs: Peter, you know your mistake-- never show your opponent your weak flank.
Peter: Well, we both have weak flanks; and the person that leaked your depo was trying to weaken us both.
Glenn Childs: Your mysterious third candidate?
Peter: Presiding Judge Adler.
Glenn Childs: That might prove a bit difficult.
Peter: Not after she retires. Now, when I was in office, I investigated her for judicial bribes.
Glenn Childs: So use it, Peter. Why do you need me?
Peter: Well, my guess is that you have more.
Cary: (to Alicia and Will, before taking Alicia's deposition) This is funny, isn't it? All these connections. My old workplace, my old boss, my old coworker... and my new boss competing with your husband. And then there's you two and... your thing.
Will: Chicago. Shall we start?