TV Fanatic Works Better with Prime Instant Video
40,000 other titles are available to watch now.
Katie Lowes Videos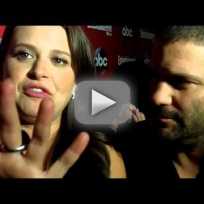 Added:
Displaying 1 video
Around the Web
Want more Scandal?
Sign up for our daily newsletter and receive the latest tv news delivered to your inbox for free!
Jake: Man, do I love you.
Olivia: I want Vermont with Fitz.
Jake: Oh, okay.
Olivia: I also want the sun with you.
Jake: So...
Olivia: I'm not choosing. I'm not choosing Jake. I'm not choosing Fitz. I'm choosing me. I'm choosing Olivia. And right now, Olivia is dancing. Now, you can dance with me or you can get off my dance floor. I'm fine dancing alone.
I am not a toy that you can play with when you're bored or lonely or horny. I am not the girl the guy gets at the end of the movie. I am not a fantasy. If you want me, earn me! Until then, we are done.

Olivia