As awkward, lovable and socially inept intern George O'Malley, T.R. Knight has emerged as a fan favorite on Grey's Anatomy. In many ways, the actor's roundabout road to success mirrors George's unlikely status as everyone's hero.
Knight's multifaceted portrayal ensures that George is never a sad sack, but far from a stereotypical leading man. We've grown to love George like a brother as he's bungled romantic encounters, struggled to fit in, and grown immensely as a surgeon. In an interview with the Arizona Republic, Knight said he was instantly drawn to George's complexity when he auditioned for the pilot.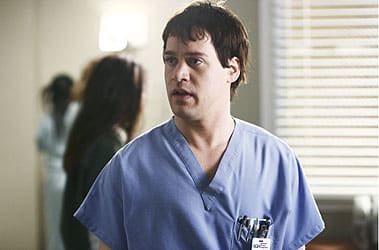 "I liked that you saw more than just one side of [
George
]," Knight said of the script. "In a pilot, there's a lot of information you have to get across, and especially in this case, a lot of characters. I saw more than one side to him. He wasn't just someone who sticks his foot in his mouth... You saw him struggle, get hurt. You saw him try to do good."
Despite how badly he wanted the part, Knight, who travelled from New York to L.A. for "pilot season," tried not to get his hopes up.
"Every once in a while you feel there's a part that's kind of more of a match than some others. But I don't know. I guess, in an effort to self-protect, [you] can't assume too much. I get in trouble when I do. So you just think, 'Okay, this is going to be really fun to do for the audition, and whoever gets this role is really gonna be lucky.' It was surprising that it actually worked out, because in my experience, the ones you really want aren't normally the ones you get," he said.
Although Knight performed in plays and was featured commercials while growing up in Minneapolis, Minnesota, he didn't always fancy himself an actor. By the time he reached high school, he was hooked.
"I just ended up concentrating on the plays in high school at the expense of, you know, class work," he said.
Once he finished high school, Knight performed at local theatres and applied to several acting schools. After being rejected, he eventually he became a company member at the Guthrie Theater in Minneapolis, and finally decided to move to New York in 1998. He credits his initial rejection from acting school as what sparked his desire to leave Minnesota.
"I think it was my last effort to get into [acting] schools and then not getting in the final time that kind of propelled me," he says.
Knight landed work in off-Broadway shows, but still experienced plenty of hard times as an actor trying to make it in the city that never sleeps. He spoke of a friend and he constantly loaning each other $20 for food. In New York, after all, it's a victory just to pay rent and survive, even if one has the good to be working. The last off-Broadway play Knight appeared in paid him a paltry $187 a week. Then there was the difficult experience of getting fired from a play -- a role he describes as far from the best fit.
"It was a Restoration comedy, and I was supposed to come in in the fifth act as the foil to the main guy. It was a role for someone much taller and studlier than I am. He was this braggart soldier, and the costume was, like, slit all the way up the arms -- my little chicken arms were showing. It didn't make any sense unless I played it like a little Napoleon, right? Some guy with a severe short-man's complex. It didn't work, because the main character was kind of a dork. It just didn't work," Knight said.
Knight was dropped by his agency shortly thereafter, then tried in vain to garner her representation. He recalls being told that if he looked like Brad Pitt, he'd have an agent in a second.
"You just kind of get worn down, because you've been fired, you've been dropped, you haven't worked, and you're supposed to go in and be, like, 'Hey, invest in me. Believe in me.' I'm sure I walked in and my tail was completely between my legs and my shoulders were slumped. I'm sure I didn't make a very attractive picture," he said.
Knight eventually found work as a reader for casting director Jim Carnahan at the Roundabout Theatre Company, which he found to be a great learning experience in spite of the pride he was forced to swallow. Then about six months later, he finally landed an acting gig -- the title role in Peter Shaffer's "Amadeus," back on his home turf at the Guthrie (see image below).
Making his way back to Minneapolis, the broke actor decided "Amadeus" would be his swan song as an actor. It was a role he'd always wanted, and thought it would be the perfect exodus from a field that hadn't paid off for him.
[Photo below by Michal Daniel, proofsheet.com]
As for his planned retirement, fate had its own ideas.
Soon Carnahan called Knight and summoned him back to the Big Apple for an audition. The director wanted Knight to star in a Broadway revival of Michael Frayn's "Noises Off," an offer that flattered Knight, but one he initially refused. With no money and schedule conflicts, Knight told his former boss that it was out of the question. After insisting the role was a great fit, Carnahan talked him into auditioning.
Sure enough, Knight landed the part of shy, good-natured (sound familiar?) stage manager Tim Allgood. He performed opposite Peter Gallagher and Patti LuPone, drawing critical praise and rejuvenating his career. This was Knight's turning point. He credits Carnahan for encouragement, and for recommending him to "Noises Off" director Jeremy Sams. The rest, as they say, is history.
"I really think he's ultimately responsible for every job I'll ever get," he said.
Steve Marsi is the Managing Editor of TV Fanatic. Follow him on Google+ or email him here.