Grey's Anatomy Cast Has Festive Time at TV/Radio Event
Steve Marsi at .
What makes Grey's Anatomy such a critically-acclaimed, viewer-obsessed sensation? There's great writing and intriguing story lines for sure - but the diverse, entertaining, talented cast is truly what stands out about our favorite program.
To see how these actors mesh away from Seattle Grace Hospital, USA Today recently ran a story on the cast's appearance at the Museum of Television & Radio's 23rd annual William S. Paley Television Festival on Tuesday.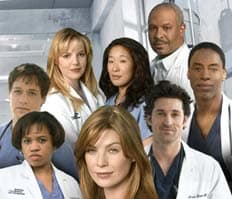 Ten of the show's actors, plus five writers and producers, along with the creator, Shonda Rhimes, filed onstage at the
Director's Guild of America
to answer questions from a moderator and audience members.
"For us, not having a time slot last year, and now all of you watching ... has been great," Rhimes told the screaming audience, mostly women, at the sold-out event.

Patrick Dempsey, who plays neurosurgeon Dr. Derek Shepherd ("McDreamy," to anyone in the know) sat between his two love interests: Kate Walsh, who plays his wife, Dr. Addison Shepherd, and Ellen Pompeo, who portrays intern Meredith Grey. It turned out that Dempsey's real-life heartthrob status made an impression on Rhimes herself.
Dempsey said he had been "completely terrified" of Rhimes during his original audition because she stared at him, "no expression, no warmth," but Rhimes thought otherwise.
"The entire time he was in the room, I thought, 'He's so dreamy,'" she said.
When asked how the cast resembled its characters, Pompeo grinned and pointed at Dempsey.
"I haven't publicly said this before, but I do have a crush on him," Pompeo said.
"Well, I have a crush on you, too," Dempsey, who is married to Jillian Fink, shot back, to sighs and whoops from the audience.
"I've got a crush on both of you. Maybe we can party," Walsh said, laughing.
Prompted by two giggling young women asking about the show's complex couplings, T.R. Knight reflected on his character's recent disastrous sex scene. In that episode, Knight's baby-faced and bumbling Dr. George O' Malley finally gets to consummate his obsession with Meredith, only to see her bawl with regret and confusion.
"It wasn't just a 'poor George' moment," said Knight, just as fidgety as his character. "Yes, he's loved her from the start, but he wasn't listening to her from the start."
The cast's diversity, which writer Krista Vernoff called "revolutionary," also triggered discussion. Chandra Wilson waited to try out for the role of feisty surgeon Dr. Miranda Bailey because the script called for a short, blond woman.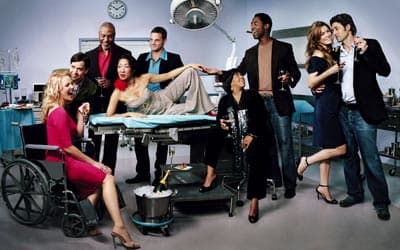 But she was perfect, Rhimes said.
"In the surgeon world that she's in, Miranda shouldn't necessarily be there," Wilson said, tearing up. "She's a woman and an African-American. And she doesn't worry about any of that. I hope I have some of that in me."
Isaiah Washington's role as handsome black surgeon Dr. Preston Burke was originally imagined for a "short, nebbish man," he said.
James Pickens Jr. described his role as chief surgeon Dr. Richard Webber as "Cliff Huxtable trapped in bizarro land," and possibly the best part he's ever played.
Afterward, as fans lurched toward the stage for autographs, Pompeo mused about the show's popularity.
"The chemistry between the cast is very important," she said. "We're a family and have respect for each other. And we have fun, which comes across."
Steve Marsi is the Managing Editor of TV Fanatic. Follow him on Google+ or email him here.