When Isaiah Washington joined the cast of Grey's Anatomy, the actor knew exactly what sort of TV doctor he did not want to play: The arrogant, standoffish, token Dr. African-American.
Mission accomplished.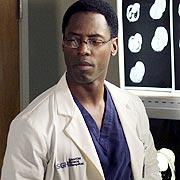 "That kind of person can be done without a chip on his shoulder. I didn't want to be on a successful show and just put in a box," Washington said in an interview with Mike Duffy of Gannett News Service.
Washington's Dr. Preston Burke (right) isn't simply an incarnation of Dr. Peter Benton on ER. Burke is evolved. He has depth. He's a consummate professional, but has started to open up and reveal shades of emotion. He's flawed, funny, and taking a chance on romance. You could certainly make the case that Dr. Burke is McDreamy, Two.
After the show's creator, Shonda Rhimes, found Patrick Dempsey to portray Dr. Derek "McDreamy" Shepherd, she chose Washington to portray Dr. Burke, and everything clicked. Rhimes, whose hospital drama has become a highly-rated, wildly-popular phenomenon and was just given the "Future Classic" Award by TV Land, loves that she has two very different leading men.
"This isn't a traditional medical drama. I've always said from the beginning, we're a relationship show with surgery," Rhimes said. "It's never about the patients. It's about how the doctors feel about the patients."
Though the emotional odyssey of Dr. Meredith Grey (Ellen Pompeo) is the backbone of Grey's Anatomy, Dr. Burke is a prominent example of the show's impressive, almost matter-of-fact diversity. Besides the no-nonsense Dr. Burke, there is Dr. Richard Webber (James Pickens, Jr.) as the avuncular chief of surgery. Then there's Dr. Miranda Bailey (Chandra Wilson) as the gruff, sarcastic and caring surgeon in charge of training the interns.
In recent years, Rhimes grew weary of programs that feature just a single black doctor in the hospital, or one black cop or one Latino detective on the police force. On Grey's Anatomy, multiculturalism is a fact of life. Half the cast are minorities, including Dr. Cristina Yang (Sandra Oh), a brilliant but emotionally guarded Asian-American intern who captured Dr. Burke's heart.
But don't look for Rhimes to play any race card.
"There's never going to be 'a very special episode' about race. I hate that sort of thing," said Rhimes, 36, one of television's few female African-American series creators and executive producers. "I'm a post-Civil Rights baby. I'm not trying to make a point. This is just the way the world looks now."
Steve Marsi is the Managing Editor of TV Fanatic. Follow him on Google+ or email him here.