Katherine Heigl
, a beautiful and dynamic part of the
Grey's Anatomy
cast, is the subject of a recent
Netscape Celebrity
feature.
She's not new to fame, having turned heads for several years on the sci-fi series Roswell, but Heigl's star has certainly risen since being cast as Isobel "Izzie" Stevens on Grey's Anatomy. The 27-year old greets her recent success with a sense of relief. Everyone in the Grey's cast, Heigl notes, has been around long enough to know what it's like to invest themselves in a TV show, film, or stage production that doesn't succeed.
"To work hard on something and be passionate about it and have an audience is such a wonderful feeling. It makes it so much easier to come to work everyday," said Heigl, who's apparently as consumed with Grey's Anatomy as we are.
"I'm obsessed with it myself, which is really weird because I'm on it. I never used to be into the stuff I did. It's hard to watch it objectively. This one I get really excited about because there are so many characters and there is so much going on. I'm not in everything, so I don't know exactly how everything is going to pan out. I get all like, 'Oh, my God! What's going to happen with George and Meredith?'"
This kind of reaction to the material has given the Connecticut native a new appreciation for the work that goes into creating each episode.
"I'm really fascinated by the writing process... I'm really impressed by how they turn a script out every eight days with the quality that they do it with," she said.
Heigl does admit that after the strong first season of Grey's Anatomy, she wasn't sure if the writing could live up to its early success.
"At first I was a little nervous because you think, 'Can we withstand this? Can we keep up the great writing and acting?' But as this year has gone on and Shonda Rhimes and all the writers have turned out wonderful script after script, that stress started to ease."
The writers have been so precise with creating Katherine's character that she has found herself becoming quite protective.
"I'm very defensive of her. I don't read the fan forums because I've had a couple of incidents of hearing things you don't want to hear," Heigl said. "Mostly people really love her and I'm grateful for that because I really love her."
We sure do. I heart Izzie personally. But what is Heigl herself so drawn to about the talented, emotional intern she portrays?
"What I like best about her is that she's unwaveringly optimistic. I love that of all the doctors, she's the least likely surgeon because not only does she come from a modeling background and a trailer park, but she also gets so emotionally attached to her patients," she said.
Dr. Stevens' first name is a perfect fit for the actress, too. This is the third time in her career that Heigl has played an Isobel.
"I know... I don't know how that happened. It's been three times now," Katherine said, laughing. "I'm playing Isobel Stevens now, and I played Isabel Evans on Roswell for three years. It's really bizarre."
No matter who she plays, Heigl is grateful for all her opportunities as an actress -- a list of roles that will surely grow with Grey's popularity.
"It's changed my career in a sense that I don't have to fight as hard to be seen for other projects," she said. "I've even started to try to produce a little bit and get the rights to some books that I'm reading. I hope in the next year or two that pieces fall into place and I can start a production company with my mother. We've been working together since I was little."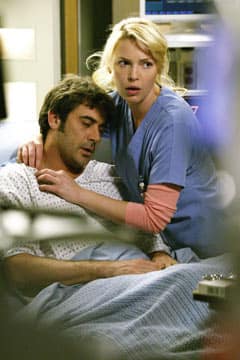 Heigl's mother, Nancy, also serves as her manager. Katherine began her acting and modeling career at the tender age of nine. With this kind of career boost, there's no doubt she will take advantage. She already has a new movie lined up, with more offers sure to follow.
On Grey's Anatomy, Izzie's future at Seattle Grace is somewhat up in the air. In the three-part season finale, she cut the LVAD wires of her love interest, Denny Duquette (played by Jeffrey Dean Morgan, pictured) in an attempt to bump him up the transplant list. After his death, she abruptly quit the internship program.
So far, all indications point to her returning for Season Three!
Steve Marsi is the Managing Editor of TV Fanatic. Follow him on Google+ or email him here.