Show's Ratings Rank Fifth In 2005-06, Syndication Deal Already In the Works?
Steve Marsi at . Comments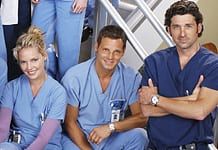 The strong sophomore season by
Grey's Anatomy
was good enough for fifth place in ratings among all prime time programs in 2005-06, according to a list released by The Hollywood Reporter.
Nearly 20 million people tuned in to watch the antics and drama of the Seattle Grace staff every week, a number eclipsed only by Desperate Housewives (the show's Sunday lead-in before ABC moved Grey's to Thursday), CSI, and both nights of American Idol.
While the Shonda Rhimes brainchild and unique medical drama did well throughout its second season, it really picked up steam after its two-part, post-Super Bowl episode and reached new highs with a three-part, season-ending cliffhanger.
Four CBS programs made the top 10, while both ABC and FOX occupied three spots. NBC was blanked. Here's the top 10, ranked by average viewers:
American Idol (Tuesday), 31.2 million
American Idol (Wednesday), 30.2 million
CSI, 25 million
Desperate Housewives, 22.2 million
Grey's Anatomy, 19.9 million
Without A Trace, 18.7 million
Dancing with the Stars (Thursday), 18.6 million
Survivor: Guatemala, 18.3 million
CSI: Miami, 18.1 million
House, 17.3 miillion
In other news, Buena Vista Television is trying to hammer out a cable syndication deal involving Grey's Anatomy. The company is reportedly seeking $2 million per episode in an all-cash, four-year licensing deal with no cap on the number of seasons. The syndication arrangement would start in 2009, with the repurposed episodes airing sooner than that.
Some in the cable TV business think the final episode price will be closer to $700,000 per, while others estimate it could end up at more than $1 million. Desperate Housewives, also owned by Buena Vista, recently went to Lifetime at $500,000 per episode and is slated for a 2008 start. The asking price was initially $1.2 million per episode.
The syndicator is targeting Turner networks, USA, ABC Family and, perhaps, Oxygen, as future homes for Grey's Anatomy.
Steve Marsi is the Managing Editor of TV Fanatic. Follow him on Google+ or email him here.