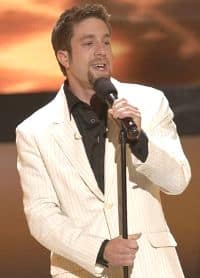 It may seem impossible to believe now, but
TV Guide
reports there was a time when no one wanted to hear Elliot Yamin sing.
"I was always loud, interrupting my mom on the phone or my brother doing his homework," the 27-year-old Virginian said. "I would annoy everybody."
Not anymore. The third-place finisher on Season Five of American Idol, Yamin actually placed fifth in an AOL poll ranking the best Idols of all-time.
In just a few weeks, Yamin transformed himself from a loser with a bowl cut and goofy grin to everyone's favorite underdog. His health issues - partial deafness and diabetes - inspired millions with similar conditions.
Elliot's mom, Claudette, summed it up when she saw her son dressed in white in the May 22 edition of TV Guide: "Elliott looks sexy."
As American Idol turned his self-described "pipe dream" of a music career into a reality, Yamin was the lovable mutt who, some would argue, became the best-in-show. Even host Ryan Seacrest asked on air what had happened to the old Elliott.
"That guy is gone," the singer replied with a smile.
In a big way. Born Efraym Elliott Yamin in Los Angeles, the original Elliot is the son of Israeli Shaul Yamin.
"My dad was a part-time [house] painter and part-time layabout," Elliott said.
Yamin was 14 when his parents split, saying the experience "definitely hurt." But it also made him appreciate the efforts of the women he now refers to as "Supermom."
Meanwhile, the future Idol favorite suffered from ear infections that eventually caused him to lose 90 percent hearing in his right ear. Then, at 16, he was diagnosed with Type 1 diabetes. Living at home and subsisting on menial jobs, Elliot found a role model in Tony Klisiewicz, the manager of a Foot Locker who gave him a job on the condition that he earn his GED.
Things fell into place from there. After winning a cool $1,00 in a karaoke contest, Elliott was encouraged to step onto the FOX stage. He and his girlfriend, Amanda Parker, tried out in Boston. While she didn't make it through the auditions, he quickly became a Paula Abdul favorite.
"She has a big heart, like I do," Elliott says of the woman he reduced to tears.
Despite coming in third, Elliot has a fan base that grows by the day. He's eager to get the "E-train" rolling on the American Idol tour. For the July 29 stop in his hometown, 9,000 tickets sold out in less than 15 minutes, besting the tour led by Ruben Studdard and Clay Aiken in 2003.
He also hopes to release a classic R&B record.
"Before Idol, I was lost," Elliot recalls. "Now I've actually followed through with something. I am a better man for it!"
Matt Richenthal is the Editor in Chief of TV Fanatic. Follow him on Twitter and on Google+.