Katharine McPhee, the runner-up in the recent season of American Idol, will be the co-producer of a play that will run during the 10th annual New York International Fringe Festival, Playbill reports.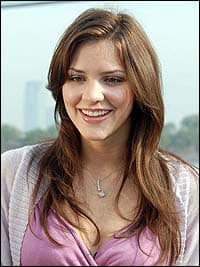 Along with Nick Cokas (who also happens to be McPhee's beau), Robert Hawk, Angelina Bruno and Jeff Kasal, McPhee will be presenting Red Herring, a new play by Michael Albanese. Jonathan Silverstein will direct the production, which will run at Manhattan's Connelly Theatre from August 12-26.
About her decision to co-produce Red Herring, McPhee said she was drawn to the project immediately after reading the script.
"As soon as I read this play, I knew it was something that I wanted to be a part of. Audiences know me best from American Idol, but my passion has always been theatre. So much quality work comes out of the Fringe Festival," she said. "Artists can take real risks and challenge convention. Michael has written a beautiful play that is thought provoking, entertaining and fresh. I am thrilled to bring this incredible play to this year's Fringe Festival."
Thomas Jefferson Byrd, a Tony nominee for 2003's production of Ma Rainey's Black Bottom, will be featured in a cast that also includes Take Me Out's Shane McRae. The creative team comprises Matt Hodges (scenic design), Tara Hawks (costume design), Lucrecia Briceno (lighting design) and Emily Wright (sound design).
According to press notes, Red Herring is set in Death Row, with two men separated by a wall. The play seeks to answer the question of whether an unlikely friendship can defy limitations and keep hope alive for men in desperate situations, while also exploring the levels of forgiveness, fear and compassion between fellow human beings.
McPhee has been following doctors' orders and resting her voice for the past few weeks while her fellow American Idol finalists tour the U.S. Hopefully she can rejoin them soon, but at least she's putting her down time to good use!
Matt Richenthal is the Editor in Chief of TV Fanatic. Follow him on Twitter and on Google+.