Two years ago, Absent Element won a local battle-of-the-bands contest.
The prize, according to the News-Observer, was a gig at the Alltel Pavilion at Walnut Creek, a chance to play early on a Saturday morning during a ticket-sales promotion in Raleigh, N.C.
"We'd been under the assumption we'd be on the side stage inside. Instead, we wound up outside, no stage, in the parking lot. But whatever, it was a little closer to the stage than we'd been a couple of years earlier. And I'd still be there if I hadn't been on the show," recalled that band's lead singer, a young man by the name of Chris Daughtry.
The McLeansville, N.C. rocker probably won't be playing any parking lots anytime soon after his run on American Idol, which a lot of people thought he should have won. Instead, he was surprisingly voted off May 10 and settled for a fourth-place finish.
While Taylor Hicks went on to claim the big prize, Daughtry has had plenty of good things come his way since that defeat. He's on the American Idol concert tour right now alongside Hicks, as well as fellow North Carolina natives Kellie Pickler (Albemarle) and Bucky Covington (Rockingham), and other Season Five finalists. On Sunday, July 30, the Tar Heel trio will have a homecoming of sorts when the show rolls into Greensboro Coliseum.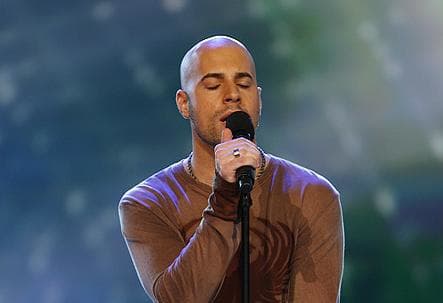 But the current
tour
is just a warm-up for Daughtry, whose debut album with 19/RCA Records is due out this fall. Ian Pirie, the head of 19 Records' U.S. division, describes a lot of real and virtual activity on the album.
"We're flying people in and out of the tour to work with Chris in hotel rooms before shows. The great thing about technology is, with a laptop and some gear, you can trade ideas by uploading and downloading demos and works in progress. And he's got a lot of songs he's written himself over the years, which we're helping develop as well. We're not starting from ground zero," Pirie said.
While American Idol nets the biggest TV audience aside from the Super Bowl (and does so many times per season), everybody forgets about the losers on Super Sunday. Not the case with Idol, who often wind up doing as well, or better than the winners. Consider yet another North Carolina product, Clay Aiken, the 2003 runner-up, who has commercially surpassed that season's winner, Ruben Studdard.
"It's been pretty good for people who didn't come in first. Kimberley Locke managed a decent-sized top-40 hit. Josh Gracin is having a pretty good country career. Mario Vasquez and Bo Bice have done well. They're not atypical. It gets your record onto a program director's desk, and it helps to have 'former American Idol contestant' to talk about. But from there, it's up to the record," Sean Ross, V.P. of Music and Programming for Edison Media Research.
As for Daughtry, his album will be atypical American Idol fare in that it will easily be the most rock-oriented album anybody from the show has ever produced. The 26-year-old impressed judges and fans alike as a rock singer, especially with his versions of Bon Jovi's "Wanted Dead or Alive" and Fuel's "Hemorrhage (In My Hands)" -- the band members of Fuel were so taken with Daughtry's rendition, in fact, that they invited him to join the band to replace recently-departed lead singer Brett Scallions.
Last year's runner-up, Bo Bice, also made a name for himself as a rocker, but has reverted to more of a pop-rock sound nice. Not Chris.
"I feel that anything less than a rock album would be ridiculous for me," said Daughtry, who ended up turning down Fuel's offer. "That's where my passion is, what comes out of me. I've been writing for 10 years, and I have to believe in a song before I can sing it. They have to come from me for it to be real. I've been writing with people I respect as writers, Ed Kowalczyk from Live, Carl Bell from Fuel. All kinds of people want to work with me, so it's great to have street cred and respect from other artists."
That other major Idol first is that Daughtry is actually co-writing all the songs on his album.
"We've had occasions where they co-wrote a few songs on their debut," says 19's Pirie. "But never to this degree. Given the fact that Chris has a long history of writing for his band, he's already accomplished in that area. When he sat down with a guitar and played some of his songs for us, we were all blown away. So our No. 1 priority is to give Chris the opportunity to write songs that affect him, and that reflect who he is as an artist."
As for the fate of Daughtry's old Absent Element mates?
"I know they'll have a shot in auditions to be the band for the road," Daughtry said. "Whether or not they'll make it, that's out of my hands, and I don't know for sure where that lies."
Thanks to American Idol, Daughtry will have a promotional head start when his album comes out. He already has the visibility and name recognition that labels usually spend millions of dollars and years of effort to build. Nevertheless, that can be a double-edged sword in that Daughtry faces the sort of pressure most people can't even imagine.
We're confident he can handle it, though.
Matt Richenthal is the Editor in Chief of TV Fanatic. Follow him on Twitter and on Google+.