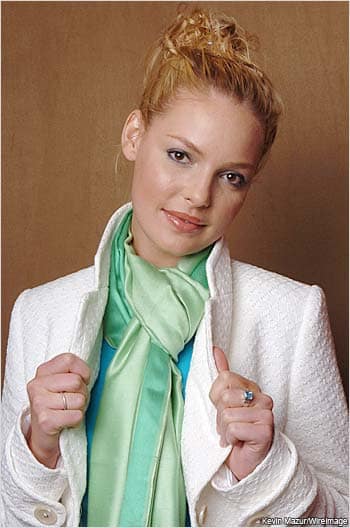 What one word came to the mind of
Katherine Heigl
when the
Emmy nominations
for
Grey's Anatomy
were announced last week?
"Disappointment," she said, smiling. "What happened to mine? That's what I want to know. What happened to my nomination?"
As for team spirit, Heigl paused for a second, laughed, and added simply "Screw them."
Heigl, who is currently filming the comedy Knocked Up, then dispensed with the feigned disappointment and admitted to the Philadelphia Daily News that she's been in touch with her Emmy-nominated co-stars, Chandra Wilson and Sandra Oh.
"I talked to Chandra and they're over in Europe right now doing publicity for the show and she's sort of kind of like dumbstruck right now," Heigl said. "I was like, 'How do you feel? Are you excited?' And she was like, 'I don't know. I don't know how I feel yet.' It's just so deserving. She's so unbelievably talented and has worked long and hard in this industry like the rest of us and I'm just really, really proud of her."

As for Sandra, who initially tried out for the role of
Dr. Miranda Bailey
, which went to Wilson, before being cast as Dr. Cristina Yang?
"I have not gotten hold of Sandra yet, but I think Sandra is probably up to her eyeballs in rehearsals and performances in New York for her play that she's doing, but again, just another person who's really so talented and so deserving," Heigl said. "But I wonder if this year she's like, 'Eh, this is old hat. I was nominated last year. Whatever.' I wonder if you ever get like that."
Heigl, who recently got engaged to singer Josh Kelley, is just enjoying the perks of being on a hit TV series, such as the increased publicity. Thanks to the notoriety she received from Grey's, she was given the lead role in Knocked Up, a big-studio comedy. Despite not being slated for release until next summer, it's already eaten Katherine's entire summer vacation.
"I can't even imagine going back to work in two weeks on Grey's. I'm exhausted. I do think it's one of those situations, my agent likes to say, it's a high-class problem. I spent a lot of years out of work, so I'd rather be tired and over-worked than bored and under-worked. It's been an amazing year," Heigl said.
She has some loose ends to tie up when shooting begins.
Last season's two-part finale left Katherine's character, Dr. Isobel "Izzie" Stevens, in career limbo after ill-fated decisions regarding heart-transplant patient Denny Duquette, her handsome love interest played by Jeffrey Dean Morgan. Now Izzie's medical future is uncertain, and Heigl has caught some flak from fans.
"People are angry and people are sympathetic. It kind of runs the gamut," she said. "I'm actually more angry than sympathetic. I can't believe she threw her career away. I just can't believe it."
Heigl does understand, though, why creator Shonda Rhimes and the rest of the writing team decided to go down that road.
"It was a great sort of creative choice. As far as the acting goes, it was great drama. But because I know the character so well and she's worked so unbelievably hard to be taken seriously as a doctor and all the years of schooling to get there, I was so devastated. Is like, 'Noooooo... She's worked too hard to throw it all away. She doesn't even know him!' But it was good drama," Katherine recounted.
So what's going to happen this fall? Heigl wouldn't tell us if she knew, but she's still in the dark herself, for the most part.
"Not only can I not tell, but I don't know myself, so it's one of those conversations where you're just like, 'I don't know! I'd just keep watching. Keep watching! We've moved to Thursday nights, so keep watching!'"
Not a problem, Katherine. Not a problem.
Steve Marsi is the Managing Editor of TV Fanatic. Follow him on Google+ or email him here.