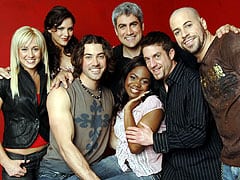 President
George W. Bush
will come face-to-face with American Idol winner
Taylor Hicks
and the other Top 10 finalists from this past season at the White House Friday.
It will be the first time contestants from the Fox hit television show have been invited to meet the president.
Hicks won the fifth season and was given a guaranteed record deal after 63 million votes were cast for him in the May 24 finale. That's more than the 59 million that Bush got in 2004, which is a little frightening. Not because the Idol winner got more votes than the U.S. President, but because 59 million people actually pulled the lever for the guy in the Oval Office. Astounding.
Voters can cast more than one ballot on American Idol, of course. Also attending the White House reception will be runner-up Katharine McPhee, who has been on the mend, along with Chris Daughtry and Kellie Pickler -- all of whom were recently given record contracts as well.
While all the Idol participants will be warmly received in Washington, the top dog may get an extra-special welcome. The Boston Globe reports that Hicks has a personal White House connection in Susan Whitson, his ninth-grade English teacher at Hoover High School in Birmingham, Ala., and Laura Bush's current press secretary!
Matt Richenthal is the Editor in Chief of TV Fanatic. Follow him on Twitter and on Google+.