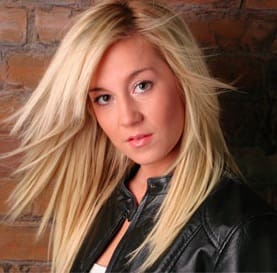 Perky blonde / professional ditz
Kellie Pickler
has become the fourth contestant from last season's
American Idol
to land a record deal, signing yesterday with country label BNA Records and (
Idol
creator) Simon Fuller's 19 Recordings Limited.
Her debut album is scheduled for a November 14 release. Pickler is currently with her fellow Idols on their barnstorming cross-county American Idols Live tour.
Meanwhile, Pickler's recent guest-host stint on The View went so well that Rosie O'Donnell, the show's soon-to-be co-host, gushed about it. O'Donnell commented on the appearance on her website yesterday, giving Kellie P. quite the enthusiastic review.
THAT KID/TODAY ON THE VIEW/PERFECTION/TRIPLE LOVE HER.
Eloquent, Rosie.
In other Idol news, the lovely Season Five runner-up has rebuffed reports that she has ditched the concert tour altogether.
Katharine McPhee, sidelined by bronchitis and laryngitis for the last few weeks, posted a letter to her admirers on the fan site katharinefans.com.
"I have heard a rumor that I will be missing the entire tour, I can assure you that that is completely false. I am looking to join the tour around the 21st. That is the doctors [sic] orders, not mine," she wrote.
McPhee has been ordered by her physician to keep completely silent for the last week and half, but old guy boyfriend Nick Cokas has been acting as her interpreter and man-servant. Nice of him. Katharine will test out the ol' pipes on Wednesday when she co-hosts The View herself. Good luck!
Matt Richenthal is the Editor in Chief of TV Fanatic. Follow him on Twitter and on Google+.