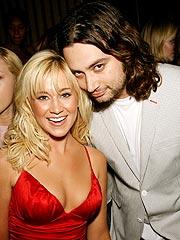 It was a match made in
American Idol
heaven. Or something.
But no matter, because apparently it's over. We are talking about the cute item of failed Idol hopefuls Constantine Maroulis and Kellie Pickler, who reportedly dated for awhile before the cute North Carolina native stopped returning the long-haired rocker's calls.
"We were hanging out and talking all the time and I haven't spoken to her in a while, so I'm not really sure what that's all about," Maroulis said. "I don't know if it's her being too busy or thinking that she's a big star now or something. I'm not really sure what the whole situation is."
Maroulis is not sure exactly what went wrong, but he is fairly sure that the spotlight played at least some role.
"It became a thing where everyone was asking her, 'What's going on with Constantine?' Kellie probably thought, 'I just came off a big show. Ask me about me, not just about Constantine.'"
Maroulis, who kicks off a solo tour in Richmond, Va., on August 1, and who'll be a "singing judge" on the new MTV reality series The Little Talent Show this fall, says he has no hard feelings.
"I wish her the best, man. I think she's a sweetheart."
Pickler, whose rep didn't return calls, hits the road TODAY with Katharine McPhee, Taylor Hicks and the rest of her Season Five cohorts in their cross-country tour.
Matt Richenthal is the Editor in Chief of TV Fanatic. Follow him on Twitter and on Google+.