American Idol Does SoCal as Tour Winds Down; Whose Careers Will Stand the Test of Time?
Matt Richenthal at . Comments
A quote from Kellie Pickler, just before the latest American Idols Live! parade of fleetingly famous finalists paused for intermission last weekend at the Staples Center in Los Angeles, added a trademark, down-home spin to a line virtually every performer uttered:
"It's amazing how much your life can change in a year! One day I'm a roller-skating waitress at a Sonic Drive-In," K-Pick said. "Now people are interested in me!"
What may also be the case, according to the Orange County Register, is a return to relative obscurity. As terrific as their show (see pics below) was this weekend, they may not have staying power.
After all, by this time next year, Kellie and most of this season's Idols will have been replaced by a new batch of vocalists, commanding a corner of our shrinking attention spans, simply because we just rooted and voted for them on Season 6 of American Idol.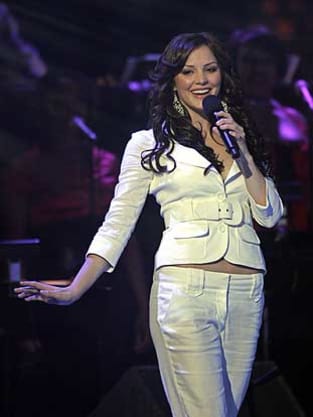 If LaToya London and George Huff and Jasmine Trias and John Stevens and others have taught us anything, it's that:
Anyone can put out a record
Weekly exposure to tens of millions of TV viewers is perhaps the least important factor in becoming a star. Their post-American Idol careers underscore how not even this incomparable juggernaut can produce lasting winners on cue.
The pair from Season 5 who have the best shot? Taylor Hicks, of course, unless he has his soul-patrol appeal Clive Davis-ed out of him. His lack of dynamism might also be his downfall. All he did at Staples Center Saturday night and Sunday at the Pond in Anaheim was show off his dance moves, play some harmonica and holler through '70s favorites. Can he grow as an artist beyond this soon-to-be tiresome image?
There is plenty about him that can light up an arena, however; pandemonium nearly broke out when he emerged at the end of the night among the crowd singing "Jailhouse Rock." The only other Idol to garner such a response was Chris Daughtry, the bald rocker who was wise to turn down Fuel's invitation to join up, for he clearly doesn't need their help to make it big.
His intense charisma and hearty voice, which outshined his counterparts on tracks late in the show, can carry him a long way.
Squealing fans always give away the game: No one else measured up on the shriek-o-meter. Elliott Yamin came close, however. If there's a wild card among this lot, it's him. At the very least, his remakes of Elvis and Luther Vandross reminded us that such an odd little fellow can wail. He clearly deserved his third-place finish.
Come to think of it, he may have outshined Katharine McPhee, who this night revived her usual fare: "Black Horse and the Cherry Tree," "Think," and "Somewhere Over the Rainbow." She's Broadway-bound, of course, so she's clearly not running out of options.
Matt Richenthal is the Editor in Chief of TV Fanatic. Follow him on Twitter and on Google+.