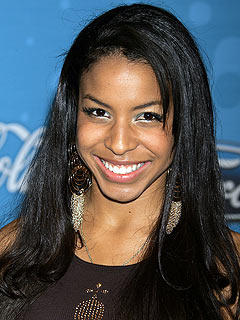 The 10th-place finisher in any contest is rare noteworthy, but anyone who watched
Lisa Tucker
on
American Idol
knows she's no ordinary contestant.
Tucker, who turned 17 in June, is making a name for herself on the current Idol tour with a restrained capability and strong voice that we never got to see enough of this spring. Michael Slezak of Entertainment Weekly caught up with Tucker and got the scoop on her improved performances, as well as her post-Idol plans.
Here's the interview:
EW: I have to be honest with you: You were the biggest surprise of the Idol tour for me. When you sat down at the piano and sang those Elton John tunes, I was impressed. What's the difference between your current performances and what we saw on TV?
LISA TUCKER: On the show, you're performing for the audience in the house, but you're really performing to the cameras. On the tour, we just get to do our thing in front of all the people who voted for us. And not worrying about being judged afterward helps too. [Laughs]
EW: Seriously, though, do you connect with the music more sitting on that piano bench?
LISA TUCKER: You know, I'm so comfortable sitting there and playing. I feel like I really am connecting with the audience, making that eye contact, even though I'm not in front of the stage reaching out into the crowd. I'm making a different kind of connection.
EW: Do you ever dream of playing a small jazz-club tour? It seems like it would suit you.
LISA TUCKER: Well, I actually used to do that before American Idol. I'd play House of Blues and different clubs — even though I was underage. [Laughs]
EW: I was going to ask, they let you past the door?
LISA TUCKER: [Laughs] Exactly, give me a wrist band and kick me out after I'm done.
EW: How did you get involved playing those venues as a teenager?
LISA TUCKER: My brothers were actually in a hip-hop group. So they'd perform at House of Blues, and I'd perform there with them, and it opened doors for me.
EW: Given your early start in the business, then, what's your response when you hear people say that singers should have to be at least 18 to be on American Idol?
LISA TUCKER: I definitely think this is what I was meant to do at this time. I think both Paris and I proved you don't have to be 18 to [be right for] this competition — we definitely brought the artistic element and musical maturity to it. Age was just a number, you know? On the tour, I'm playing piano, and a lot of people don't do that.

EW: Still, do you ever wonder if maybe you'd waited a couple more years to audition, you might've had a chance to win the whole competition?
LISA TUCKER: Not in the musical aspect of it — even though I'm still developing in that regard. But maybe being comfortable in front of all the cameras... Then again, I had done stage performances and I had done Star Search with all the cameras on me, so not necessarily. This time was a good time to go for it. I think if anything with my age, you have to be worried about the emotional aspect of it, not necessarily the performance aspect of it — going through Hollywood week, going round by round, dealing with the judges, and press, and everything like that. You definitely have to be emotionally prepared for it.
EW: Was that a factor for you? I think we forget most kids your age would be worrying about studying for a calculus final.
LISA TUCKER: Which I still had to do. [Laughs]
EW: Exactly. And yet you were also facing the prospect of being critiqued by Simon Cowell in front of millions, which might upset even a well-adjusted adult.
LISA TUCKER: You know, we had school on the set, three hours every day studying, then going on stage in front of millions of people, so there were a lot of things to balance out. And there is definitely a large, large stress aspect to the entire show. It's tough at a young age, but you have to remember, It's a TV show, it's a TV show. You take what the judges say with a grain of salt.
EW: So what's the next career step when the tour's done? Any urge to go back to school and be a boring teenager for a while? Or do you say, hey, Jennifer Hudson and Josh Gracin didn't finish in the top three, and they've done okay?
LISA TUCKER: I definitely believe in striking while the iron is hot. I just graduated from high school, I plan to wait a year to go to college, and during that time I'm going to record an album, and there's a new sitcom in the works, although that's being played by ear.
EW: Are you signed to a label?
LISA TUCKER: There's a couple we're thinking about. We haven't made any decisions yet. We're just waiting it out.
Matt Richenthal is the Editor in Chief of TV Fanatic. Follow him on Twitter and on Google+.