Dr. Richard Webber, Chief of Surgery at Seattle Grace Hospital, is one of the more overlooked characters on Grey's Anatomy. The same can be said for the actor who plays him, James Pickens, Jr., but ABC has spotlighted him in its daily star profile so viewers can get to know a little about him.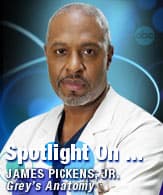 Despite landing a starring role for the first time on
Grey's Anatomy
, the 52-year-old has appeared in more than 80 TV shows and films. He has been a recurring guest on many series, including the likes of
NYPD Blue
,
Philly
,
The Practice
,
The X-Files
and
Six Feet Under
.
Born in Cleveland, Ohio, the actor got his start in the New York theatre community. Pickens starred as Walter Lee in the 25th Anniversary production of A Raisin in the Sun, and was a member of the famed Circle Rep/Steppenwolf Theatre Company co-production of Balm and Gilead. In 1981, James performed with the historic Negro Ensemble Company in a production of A Soldier's Play, alongside both Denzel Washington and Samuel L. Jackson.
In 1990, Pickens moved to the West Coast, getting his first big TV break with a guest spot on Roseanne, eventually leading to a recurring role. A recurring role on Beverly Hills 90210, was next. Dozens of TV roles soon followed, including a co-starring role in the TNT film, A Slight Case of Murder, written by William H. Macy and starring Adam Arkin and James Cromwell.
Shifting his attention to the big screen, Pickens has been directed by some of the film industry's finest. His credits include Traffic (directed by Steven Soderbergh), Nixon (Oliver Stone) and Bulworth (Warren Beatty). James has also appeared in four Barry Levinson films -- Liberty Heights, Sphere, Sleepers and Jimmy Hollywood.
He portrayed slain civil rights leader Medgar Evers in the acclaimed Rob Reiner film Ghosts of Mississippi. Pickens also played Angela Bassett's ex-husband, Walter, in How Stella Got Her Groove Back.
In his time away from the Grey's Anatomy set, Pickens can be found roping cattle and horseback riding. A member of the United States Team Roping Championship (USTRC) and a national competitor in that sport, he owns an American Quarterhorse named Smokey. Pickens and his wife, Gina, live in California's San Fernando Valley with their son and daughter.
Steve Marsi is the Managing Editor of TV Fanatic. Follow him on Google+ or email him here.