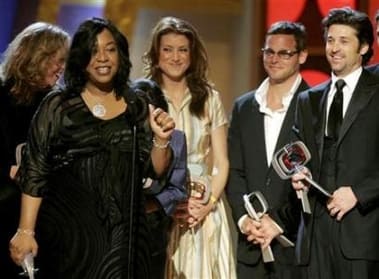 Oddsmakers are saying
Grey's Anatomy
is the heavy favorite to win the coveted award for Outstanding Drama Series award at Sunday's
Emmy Awards
.
If Grey's were to take home the crown, it would dethrone the newly-departed The West Wing in its bid for a record fifth term as prime time TV's best drama.
In addition to the classic presidential series, Grey's faces stiff competition from the critically acclaimed Fox network spy thriller, 24. Thus far, critics and fans like Grey's chances. The two remaining nominees are considered long shots in this year's Emmy drama race -- the Fox hospital show House and HBO's gangster hit and past Emmy winner, The Sopranos.
Sunday's Emmys are being closely watched by the TV industry as a test of new nomination rules designed to give newcomers, lesser-rated series and smaller networks a better shot at the major categories.
One group of TV critics taking part in an odds-making poll posted on the Los Angeles Times' entertainment site, The Envelope, picked Grey's Anatomy to narrowly edge out 24. The two shows lead the way in total nominations this year, with 24 snaring an even dozen and Grey's 11.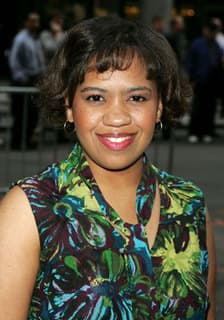 The most our beloved show could possibly win is nine, however, with
Sandra Oh
and
Chandra Wilson
(left) both up for Outstanding Supporting Actress, and
Grey's
creator
Shonda Rhimes
going up against fellow writer Krista Vernoff for top scribe honors.
Adding an extra bit of drama to the show is the fact the ABC plans to air the blockbuster film Pirates of Caribbean: The Curse of the Black Pearl opposite the NBC telecast, even as its medical drama looks poised to claim the top prize. Some have criticized the move, though ABC Entertainment President Steve McPherson insists he scheduled the film before the Emmy nominees were revealed.
Not that we advocate you bet money on Grey's, but here are the official odds for the Outstanding Drama Series category, according to docsports.com:
Grey's Anatomy -- 5/14
24 -- 4/1
House -- 13/1
The West Wing -- 33/1
The Sopranos -- 33/1
According to this oddsmaker, a $10 bet on 24 would win you $40. You'd have to bet $14 just to win $5 on Grey's Anatomy, however, making it the prohibitive favorite. Here's hoping this prediction comes true -- maybe our poll isn't that far off the mark after all!
Steve Marsi is the Managing Editor of TV Fanatic. Follow him on Google+ or email him here.