Just days after joining the American Idols Live tour after recovering from a nasty bout with bronchitis and laryngitis, Katharine McPhee has suffered yet another setback.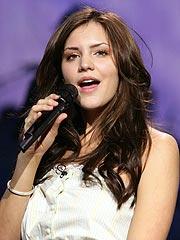 The 22-year-old American Idol runner-up and venerable media darling injured herself Tuesday by tripping backstage before a concert at Bobcats Arena in Charlotte, N.C., the New York Post reports.
Not wanting to disappoint fans, McPhee carried on, singing two songs while wearing slippers. X-rays taken at a hospital afterward revealed a hairline fracture in her left foot. In spite of the injury, McPhee says she will remain on tour.
"She's in discomfort, but she's fine. She will continue on the tour and is not defaulting," said Roger Widynowski, a representative for McPhee's record label, RCA.
Although the Idols' nationwide tour kicked off on July 5, McPhee missed the first three weeks, citing doctors' orders not to sing while she was sick.
She was scheduled to debut with her fellow finalists Elliott Yamin, Taylor Hicks, et al., on July 27 in Pittsburgh, but her flight was cancelled due to bad weather. Katharine finally made her first performance June 28 in Washington, D.C. Announcing that she was still under doctors' orders to limit her vocalizing, she skipped the group numbers, but sang "Somewhere Over the Rainbow" and KT Tunstall's "Black Horse and the Cherry Tree."
Katharine's boyfriend, actor/producer Nick Cokas, is certainly getting a workout these days. Having served as her de facto interpreter during her throat ailments, he may now be asked to carry McPhee up flights of stairs! How romantic.
Matt Richenthal is the Editor in Chief of TV Fanatic. Follow him on Twitter and on Google+.