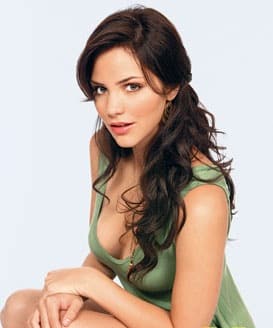 She may have come up just short on
American Idol
, but
Katharine McPhee
has led the way in terms of controversy -- much of it unjustified -- ever since she got big.
Before a recent show in Ft. Lauderdale, Fla., the American Idol runner-up opened up to Us Weekly about her bouts with bulimia and bronchitis, along with what's up next in her career and personal life.
On the backlash received after missing time on the current American Idols Live tour with laryngitis and bronchitis:
"People were like, 'Why did it take so long to get over being sick?' I felt like I was under attack. Here's the thing -- vocal cords are very sensitive parts of the body that need to be taken care of... I still have to see doctors across the country to make sure my voice is healing. I could show you my throat X-rays, but I'm not going to. I live my life truthfully."
On her battle with, and recovery from bulimia:
"Everyone on tour has been very supportive of me. I didn't put [the story] out there for sympathy. If it helps anyone, then great. Also, I remember when Kelly Clarkson spoke up and said, 'I'm not gonna bend to the pressures.' She lets her body do what it wants and she looks fabulous. You can tell she works out and takes care of herself. It's so important to have positive, beautiful women as influences."
On rumors she's a diva:
"I am a strong woman. But on American Idol, people were saying things like, 'Oh, she's stuck-up.' It's hard because no matter what I do, there will always be people who don't like me... I would love to sit down with Julia Roberts or Oprah [Winfrey] to hear about how they deal with [the pressures of fame]."
On her boyfriend, Nick Cokas:
"We have a great time. We love to text-message when I'm on the road. And at home, we like to get dinner and see a movie. We're like old people!"
On her future plans:
"I want to make a good album... a few months ago, I had a meeting with Steven Spielberg. I was so in awe that he had time to sit down and get to know me!"
Matt Richenthal is the Editor in Chief of TV Fanatic. Follow him on Twitter and on Google+.