We may have gotten to know and love Katharine McPhee based on her singing talents, but the American Idol runner-up has different aspirations.
She's already signed on with boyfriend Nick Cokas and others as co-producer of a Broadway play, and now several sources tell AIW that McPhee is one of several final contenders for the coveted lead role in the upcoming big-screen adaptation of Wonder Woman.
Big-name stars such as Sandra Bullock and Kate Beckinsale have also been rumored to be in the running for the starring role, however, so the chances of seeing the name Katharine McPhee atop this movie poster may be slim.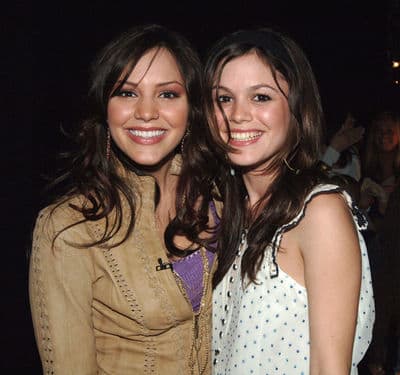 You never know, though. Katharine's pal Rachel Bilson (with McPhee, pictured) dressed up as Wonder Woman for her comic-loving boyfriend (Adam Brody, her on- and off-screen beau) on an episode of The OC, so maybe there's some kind of connection there.
It's great she's trying out, regardless of whether Katharine lands the role. McPhee employs the same manager as actress Lindsay Lohan, so it's clear she wants to break into the field. The film will be directed by Joss Whedon, creator of Buffy the Vampire Slayer, among other works.
Regardless of whether she'll be sporting Wonder Woman's trademark outfit of red boots, tights and super hero bracelets, fans will still be able to see Katharine in a different kind of suit very soon. McPhee, whose struggle with, and victory over bulimia has been well documented, will appear in a bathing suit on the cover of the upcoming issue of Shape magazine.
Now in a much healthier place, both mentally and physically, the 22-year old McPhee will be showing off her body and talking about how she overcame her eating disorder. We look forward to it -- she's our wonder woman, for sure!
Matt Richenthal is the Editor in Chief of TV Fanatic. Follow him on Twitter and on Google+.