Dr. Zoanne Clack's cell phone ring is the theme from I Dream of Jeannie.
"I'm a TV person," she tells the Dallas Morning News.
She didn't used to be, pursuing medicine for 10 years -- medical school at UT Southwestern in Dallas, residency in Atlanta, a job with the Center for Disease Control and Prevention (CDC) that took her to Tanzania and Palau. But she still wasn't feeling a sense of fulfillment. What Clack, 38, wanted was to break into the entertainment field.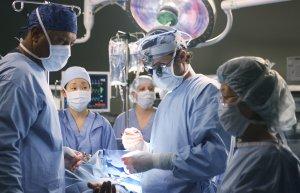 "I wasn't finding my niche in medicine. It wasn't where I thought I wanted to be... I was pushing down that other urge," said the native of Missouri City, Tex., the Houston suburb where
Grey's Anatomy
star
Isaiah Washington
once lived.
That urge took her to Hollywood in 2000, where she signed up for anything she could -- acting, producing and writing classes at UCLA. In 2002, she landed a staff job on the short-lived series Presidio Med, based on spec scripts she'd written for Without a Trace and The Shield.
After working as a consultant on ER, she was hired as a writer for Grey's after ABC picked up the pilot. What a ride it's been. Now a co-producer of Grey's Anatomy, Clack was just awarded the Scroll of Merit by the National Medical Association, the largest organization of black doctors in the country.
Quite the diverse, successful career for an only child, who grew up with a single mom who sometimes had two jobs.
"I was raised by television. I didn't see the horribleness of it. There was so much energy. They looked like they were having so much fun, and now that I'm there I see that they are," Clack said.Her mother, Joanne, steered her toward a more stable profession, and she went along with it, changing her major at Northwestern University from radio-TV-film to communication studies and neurobiology. To this day, Clack still takes emergency room shifts.
"At some level, I don't want to lose my skills," she said. "I want to have that backup, and I just can't let it go. I'm very much that person who went into medicine for the security."
Clack has written two scripts for Grey's Anatomy to date, and is currently working on a third. She's there in part to make sure the medicine works, but says her logical doctor brain also can be an obstacle.
"For a while, I was saying no to a lot of stuff. 'No, that can't happen, that's not how it works.' I decided one day I needed to open myself up," she said.
Clack knows the show's popularity is tied to the emotions it evokes as fans recognize themselves and people they know in the characters. As for the outcome of the season-ending Grey's cliffhanger -- Meredith being forced to choose between Dr. McDreamy and her new boyfriend, Finn -- she says even speculating could mean her job. Series creator Shonda Rhimes is renowned for secrecy.
But then she waxes on the subject anyway. "The fans realize that he's McDreamy, that he's going to be a contender. He's not going anywhere whether she chooses him or not," she said.
Steve Marsi is the Managing Editor of TV Fanatic. Follow him on Google+ or email him here.