In the pilot episode of
Grey's Anatomy
, Dr. Izzie Stevens begs to be taken seriously as a doctor, not stereotyped as just a hot blonde.
She eventually earned respect -- and the actress who portrays her, Katherine Heigl, won the same battle with her performances at season's end.
At the end of Season Two, a heartbreaking story line in which transplant patient and Izzie love interest Denny Duquette (Jeffrey Dean Morgan) dies has given Heigl the status she has sought to attain as a proven actress.
"For me in this industry, I think it helped people to see me as more than just a face or a body, which was very gratifying. I have waited probably my entire career to do something more with what I have than just what people expect," Heigl told the New York Daily News.
The 27-year-old actress and model previously starred on the WB's Roswell, and has nearly a dozen film credits to her name. But the emotional scenes on Grey's Anatomy, especially the climactic one in which Izzie arrived to see Denny after his successful heart transplant only to find he had died from medical complications, took her to another level.
The powerful scene came from a real place, Heigl said. Her older brother died when she was seven, and the Connecticut native used those memories, and her family's stories, to capture what she imagined Izzie's emotional response would be.
"He was 15. A week from his 16th birthday, and he was in a car accident," Katherine said. "It's one of those things that pretty much devastates an entire family for years and years, and then it changes the entire dynamic for the rest of your life... Everything is different forever now. But I have an amazing family, and I think that we have lived with it gracefully."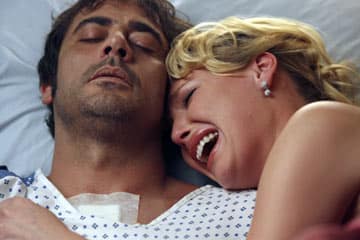 Izzie ended the season so devastated by
Denny's death
and her own role in it (she broke numerous medical, and perhaps ethical codes of conduct in getting him the donor heart in the first place) that she walked away from her surgical career. People have since been asking Heigl how, or if, Izzie will come back to SGH.
"I almost don't think she should. Because I don't think this is what she can do. She is too emotionally attached. She's never going to sacrifice a piece of her soul to be a better surgeon. She just doesn't have that in her," Heigl said. "And I think the end of the season was the culmination of a year-and-a-half internship of not being able to remove herself, and it just imploded on her."
Even so, Heigl, who recently got engaged to singer Josh Kelley, admits being frustrated herself by some of her character's actions. She, along with millions of fans, wants to ask Izzie:
"Why did you cut the wires? You couldn't have thought of anything better than that?"
Steve Marsi is the Managing Editor of TV Fanatic. Follow him on Google+ or email him here.