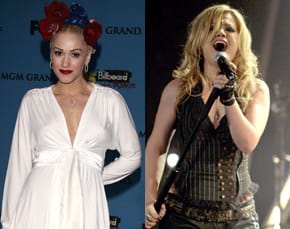 The MTV Video Music Awards tomorrow, which may interest you. Don't look for rocker and new mom
Gwen Stefani
there, however.
The New York Post reports that she's boycotting the show, apparently, because she's mad she spent all of the previous year dressing up, marching around and playing to the cameras for nothing except the "lame" Best Dressed award.
According to the Post's gossip hounds, Stefani received many nominations a year ago and was under the impression she would be taking home at least one award. She didn't, and that's not all that steamed her.
A handful of awards went to our own Kelly Clarkson, and every time the first and most-popular American Idol star won an award, the cameras panned straight over to Gwen. The former No Doubt front-woman felt set up and embarrassed.
Moreover, Stefani also thought she was going to close the show with a live performance, but was stripped of that honor. Her last-minute replacement? You guessed it -- Kelly.
We can't speak to how accurate any of these rumors are, but we sure can say that Kelly deserved each and every honor she received. She rocks!
Matt Richenthal is the Editor in Chief of TV Fanatic. Follow him on Twitter and on Google+.