Taylor Hicks Sues Former Producer Over Release of Old Material; Both Sides Claim Rights to Songs
Matt Richenthal at . Comments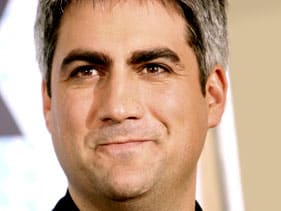 Earlier this week, lawyers representing Taylor Hicks filed suit against music producer William Smith in Alabama's U.S. District Court, hoping to thwart the online sale of three songs Hicks recorded in 2001.
Smith claims that in making the songs available, he's not interested in profiting from them -- but rather wants to silence critics who've slammed Hicks' first single since he won American Idol.
"The whole thing with putting these songs out was, he was getting killed by that goofy single, and I knew he was better than that," said Smith, who owns and operates William Smith Productions in Nashville, Tenn.
"It's going to be hard to recover from the panning he's taken from that song. We're friends. I love Taylor Hicks," he continued. "I had a three-year relationship with him. That single sucks, and this was purely altruistic on my part. I wanted to show critics that were killing him that he was way more than American Idol."
Smith refers to "Do I Make You Proud," Hicks' major-label single that has received massive airplay this summer. The suit claims Smith violated copyright laws when three songs -- "Son of a Carpenter," "In Your Time," and "The Fall," which the producer said were recorded with various studio musicians -- were made available for digital download on iTunes.
The tracks were removed from the online retailer as of yesterday afternoon, in accordance with a temporary restraining order authorized by Judge Virginia Emerson Hopkins.
Hicks' attorney, Michael Douglas, told MTV that the songs were recorded in 1997 and released on an album called In Your Time. Therefore, he reasoned, the tracks were copyrighted, and Smith could lay no claim to ownership of them.
Smith said the songs he recorded with Hicks weren't on an official album, but on a demo. That claim was largely supported by the owner of Laser's Edge, the company that released the album, who emphasized that the label is a minor offshoot of his
Birmingham, Ala.
, record store, also called Laser's Edge, which frequently publicizes and sells demo recordings by local artists.
Smith acknowledged that the songs were copyrighted, but said he'd signed a contract with Hicks and was within his rights in releasing the songs. He also said he'd shopped the recordings to several major labels, but none were interested in taking a chance on an unknown "26-year-old, gray-haired bar singer."
The suit is seeking compensatory and punitive damages in excess of $75,000, and further alleges that by releasing the songs, Smith has exposed Hicks to "irreparable" financial harm in addition to damaging his reputation within the entertainment industry.
Smith maintains that he was merely trying to help an old friend, and added that he has no interest in profiting from Hicks' work.
"I offered them a settlement. You know what I wanted? Nothing -- not one dime. I was willing to remove the song from iTunes because I had made my point [that Hicks is a more talented artist than his single might indicate]," Smith said.
"But they wanted to put in there a $1 million penalty clause, in case I ever breached a confidentiality agreement because they don't want something from Taylor's past coming back to them... If there's any profits whatsoever, he's entitled to his mechanical royalties. They're his songs. He'll get all of it. I don't want any of it."
Smith, who did not agree to the terms of the clause, said he feels he's "being sued because I am a better producer than American Idol."
Smith said he doesn't know what the commercial response to the songs has been, but he expects to get figures from iTunes within the next few days.
Michael Douglas, Hicks' counsel, was unavailable for comment, but told MTV on that he feels he and Hicks have a strong case and it's an unfortunate situation all around.
Matt Richenthal is the Editor in Chief of TV Fanatic. Follow him on Twitter and on Google+.