Many of this past season's
American Idol
finalists are making headlines these days, but how do they stack up in terms of sales?
No individual albums have been released yet, though several members of the cast have singles out, and two others have record deals in place.
In the interest of an early comparison, however, USA Today has compiled a list of downloads from this season's Idol anthology, Season 5 Encores.
These young men and women have given meaning to the term "signature cover," and each Season 5 finalist has at least one downloadable track on the compilation. It should be noted that Katharine McPhee has a single and a B-side available in addition to what's on the Idol CD, while last season's winner, Taylor Hicks, also has another digital track.
Those three songs have gotten a lot more publicity and promotion than most of the others, but below are the approximate totals as of August 6. It's interesting to note that Hicks has overcome the early lead of Chris Daughtry (pictured below) who remains wildly popular, and that the group is pushing half a million digital songs sold collectively.
And to think these are just the legal downloads!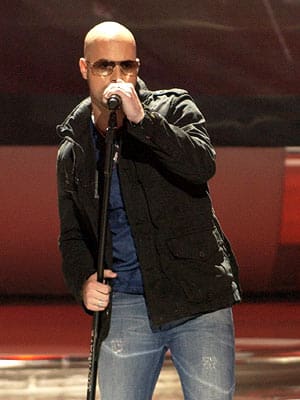 1. Taylor Hicks, "Do I Make You Proud" -- 114,000
2. Chris Daughtry, "Wanted Dead or Alive" -- 94,000
3. Taylor Hicks, "Takin' It to the Streets" -- 69,000
4. Katharine McPhee, "Somewhere Over the Rainbow" -- 67,000
5. Katharine McPhee, "My Destiny" -- 47,000
6. Elliott Yamin, "Moody's Mood for Love" -- 23,000
7. Katharine McPhee, "Think" -- 21,000
8. Ace Young, "Father Figure" -- 11,000
9. Paris Bennett, "Midnight Train to Georgia" -- 9,100
10. Kellie Pickler, "Walkin' After Midnight" -- 8,400
11. Mandisa, "I'm Every Woman" -- 7,400
12. Melissa McGhee, "What About Love" -- 6,400
13. Bucky Covington, "Superstition" -- 4,000
14. Lisa Tucker, "Signed, Sealed, Delivered" -- 3,700
15. Kevin Covais, "When I Fall in Love" -- 2,600
Matt Richenthal is the Editor in Chief of TV Fanatic. Follow him on Twitter and on Google+.