Canadian Network Mistakenly Airs Second Episode Instead of Season 3 Premiere
Steve Marsi at .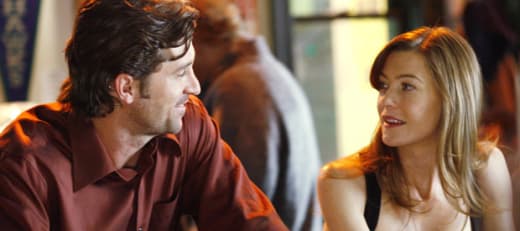 Wait, so when does Dr. McDreamy finally profess his love for Meredith? What happens to Izzie in the hours after her Denny died? And is it finally over for The Chief and his wife, Adele?
Many Canadian fans of Grey's Anatomy were puzzled Thursday by plot gaps and inconsistencies when CTV inadvertently aired the second episode of the season rather than the highly-anticipated premiere.
While the network blamed a "satellite feed error" for the blunder, that was little consolation for Grey's fans who waited the entire summer to learn the fate of the awesome interns at Seattle Grace Hospital.
"Can I just say that CTV is a crappy, irresponsible network?" wrote one fan on her blog. "I know errors happen, but this is one of the biggest shows on TV these days. (I'm) just not impressed."
Another blogger, who identified herself as Lynda, was equally miffed.
"Stupid people who don't know how to push buttons right. I am most seriously displeased," she wrote.
On CTV, the show airs at 8 p.m. ET, while the U.S. version (which edged CSI to win the night's ratings battle) airs at 9 p.m. ET on ABC. Initially, fans who tuned in to CTV couldn't quite put their finger on what was wrong.
"We were trying to figure out if they were just artfully leaving some gaps for the viewers to figure out what happened, or if indeed they were airing the wrong episode," one blogger wrote.After the mistake became clear (when ABC aired the correct version), fans took to the Internet, begging viewers who watched the CTV episode not to ruin it for them."Now that I know that Canada got next week's episode, I'm going to be frightened of spoilers constantly until next week!" a fan posted in a
Grey's
message board. "If you live in Canada, please don't include any spoilers about the second episode!"
Rick Lewchuk, a Senior V.P. at CTV, said there were no "red flags" to indicate the network had received the wrong episode.
He said the show CTV aired even had the proper "slate" -- an introductory frame identifying it as Season 3, Episode 1.
"Those are the kind of things our operator would look at to make sure they had the right feed," Lewchuk said. "These feeds will come in quite close to airtime... the turnaround time is very short."
It's also highly unusual, Lewchuk emphasized, that a future episode would even be ready a week early.
"It wouldn't even occur to anyone that it's possible that the second episode got fed out that far in advance," he said.
CTV said Disney called the network to apologize for the mistake (Grey's Anatomy is distributed by Buena Vista, the production arm of Disney) and confirmed it was simply a human error in their Burbank, Calif., transmission center.
Still, the slip-up could not have come at a more inopportune time for CTV, which has made much of the show's new Thursday night timeslot.
"After a whole summer of pimping the new timeslot, CTV showed the wrong episode of Grey's Anatomy last night," said one fan in a Grey's Time Has Come Today," next Thursday, when it had originally planned to show Episode 2.
Here in America, we'll be treated to the second episode -- entitled "I Am A Tree" as planned. No, we're not giving away any spoilers from the episode... though if you're the type who actually enjoys ruining it for yourself, you can certainly find them all over the web!
Steve Marsi is the Managing Editor of TV Fanatic. Follow him on Google+ or email him here.