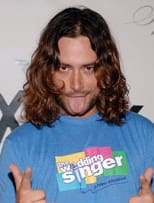 Becoming an American Idol can lead to sold out stadiums across the U.S., millions in royalties and even Grammy Awards. Or the state fair, or the local food festival.
Yes, for every Kelly Clarkson or Clay Aiken album gobbled up by eager fans, there are those of dozens of releases by the show's contestants that do not fare quite as well.
Former Idol non-winner Constantine Maroulis may have an acting career to fall back on, but his once buzz-generating music career may be hitting the skids.
While he is slated to co-host a new MTV show and has scored a role in the Broadway musical "The Wedding Singer," Maroulis is rocking out... in local food festivals.
Or at least once of them. The Brooklyn, N.Y., native and fourth season American Idol finalist is scheduled to be at the Greek Food Festival of Dallas at the end of the month. For $10, hungry fans get entrance to the festival, lunch and Constantine's performance.
Hey, whatever works. He is of Greek descent, at least. We think.
Matt Richenthal is the Editor in Chief of TV Fanatic. Follow him on Twitter and on Google+.