Thursday night's episode, "I Am a Tree," was a stellar one, marking the return of the Grey's Anatomy we know and love. We thought you'd like to read an excerpt from episode's writer, Krista Vernoff, who talks about it on the show's official writers blog.
Specifically, we were fascinated by the fact that the episode's memorable, brutally honest brain tumor patient, Benjamin, was played by Peter Paige (pictured below), one of Krista's best friends in life. Peter is also directing a new play written by Krista. See below!
~~~~~~~~~~~~~~~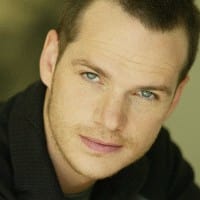 Finally, I have to take a moment to write to you about
Benjamin
. Oh my God, he broke my heart -- and not just because the actor who played him, the brilliant and multi-talented Peter Paige -- has been one of my very best friends for the last 20 years.
When they had to shock his heart on the table, I burst into tears -- and not just cause I'm four months pregnant and everything makes me cry and it almost killed me to see my Peter looking like he was maybe dying.
I love Benjamin because he makes me laugh. And he really made me think, just like he made Meredith think, about how much we should really run around all day controlling every impulse we have in favor of being "polite."
I mean, life is short, people die. If your hair conditioner isn't working, don't you want some to tell you? I know my Peter Paige tells me, which is why he's my best friend.
Finally, I'm going to take this opportunity for a moment of unadulterated self-promotion. A play I wrote, "Me, My Guitar and Don Henley" is opening in New York on October 7 in a tiny little theatre in the East Village.
If you are an East Coast dwelling theatre-goer and you like my episodes of Grey's Anatomy and you like my rambling and over-sharing, I think you will like my play, which is, coincidentally, directed by Peter Paige and includes a large amount of over-sharing.
If you don't like my rambling and over sharing? Like, if you're about to write to me and go, "Stupid Krista! Why do you think we CARE about you and your stupid life? GEEZ -- we wanna hear more about Meredith cause you're stupid, you dummy" -- then you probably shouldn't come see my play.
NOTE: If you do, here's the link.
Steve Marsi is the Managing Editor of TV Fanatic. Follow him on Google+ or email him here.