Hey, you don't like hearing from mean Simon Cowell on the air? Turns out he doesn't like sitting on the American Idol panel very much, either.
"I probably enjoy behind the scenes [more] than being on it," Cowell told reporters yesterday. "I never went into this business to be on TV."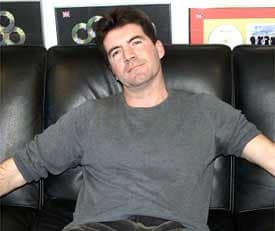 That may seem surprising to those that think Cowell craves attention, but think about it: he's the calmest of the three judges, isn't he? You don't see him standing and cheering, like Paula Abdul, or amping up his "dawgs," like Randy Jackson.
These days, Simon is busy producing Idol and another NBC reality hit, American's Got Talent.
The new season of the latter will include a few twists, he said, including adding a "boot camp" to help boost the images of nonsingers during the final rounds of the show.
"I think you're going to see quite a different structure to the show," Cowell said, adding that Regis Philbin will be back as host.
"We're working around Regis' schedule now," he said. "I think we can make it work."
Matt Richenthal is the Editor in Chief of TV Fanatic. Follow him on Twitter and on Google+.