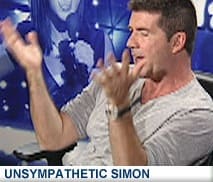 Leave it to
Simon Cowell
to mock a guy on anti-anxiety medication.
When commenting on Clay Aiken's admittance that he takes the anti-depressant Paxil to deal with the fame he won on American Idol, the surly one definitely didn't hold back in a recent interview.
"Oh give me a break. Let me have a choice, I'm going to work in a coal mine for 14 hours a day or I'm going to be a runner-up on American Idol. Give me a break, idiot."
While judge Paula Abdul and celebrity guest judge Olivia Newton-John both stuck up for the season two runner-up, Cowell kept the insults rolling.
"They're not working for a living, they're becoming famous... no one's put a gun to their head... Clay, whatever he may have said, would not swap what he's got now for what he had three years ago."
Way to be sympathetic. Simon's attitude clearly provides Idol with a certain spark, but it would be nice if he would show a little sensitivity off-screen. Clay will surely take the high road on this because that's the kind of person he is, but it's still sad he has to put up with it. He is going through enough right now, and has a great new CD out. People should focus on that and let him live his life.
Matt Richenthal is the Editor in Chief of TV Fanatic. Follow him on Twitter and on Google+.