Tomorrow, in one of the last few Grey's Anatomy episodes to be seen in the old 10 p.m. Sunday time slot, you can find the "Name of the Game."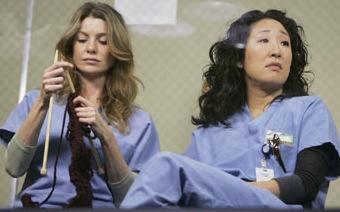 Where to even begin with this one? Meredith learns she has a sister, born to her father after he left Ellis Grey and re-married. Her sister, Molly, unaware of the connection, is hospitalized due to complications with her pregnancy.
Later in the show, Meredith (who has also learned to knit) takes Doc to the vet's office and meets a handsome Finn Dandridge (Chris O'Donnell).
Dr. Webber straight up owns Cristina during a surgical training session, telling her that above all else, you have to stick to the basics, keep it old school. Dr. Yang then employs this wisdom to rid Burke's apartment of George. Sparks fly between the short-haired Dr. O'Malley and new flame Callie, while Alex berates a patient whose decisions he disagrees with.
Follow the link above to read our complete episode guide. Then check out our gallery of 50 images, as well as a list of quotes and the Insider panel's Round Table discussion! Enjoy.
Steve Marsi is the Managing Editor of TV Fanatic. Follow him on Google+ or email him here.