The 15th annual Cumberland County, N.C., Fair kicked off last Thursday, with the sweet taste of cotton candy on the midway and the even weeter sounds of Carrie Underwood at the Crown Coliseum.
Fair fans flocked to tilt-a-whirls and bumper cars and tossed rings to win stuffed bears and live rabbits. They were rocked by "Pharaoh's Fury" and dropped by the "1001 Nights" ride. They ate cake, hot dogs and even exotic alligator tail.
Inside the Coliseum, the 23-year-old Carrie crooned to "We're Young and Beautiful" and a cover of Dolly Parton's "Jolene."
With her hair in a loose ponytail and dressed in blue jeans and knee-high boots, the American Idol winner waited until later in her set to sing her hit, "Jesus, Take the Wheel."
According to the Fayetteville Observer, fans ate it up. Nicole Steele, Teresa McGuire and Leah Fantauzzo -- students from the University of North Carolina at Greensboro -- cheered as they showed off the sorority letters on their T-shirts -- Sigma Sigma Sigma.
Underwood, as many fans may know, was a member of the same sorority, at Northeastern State University in Oklahoma.
Before Carrie took the stage, 8-year-old Hannah Pritchard and her 6-year-old brother, Harrison, warmed up nearby concert goers with an all-Carrie serenade. Both hope to audition for American Idol when they are older. Hannah says she'd sing Underwood's music.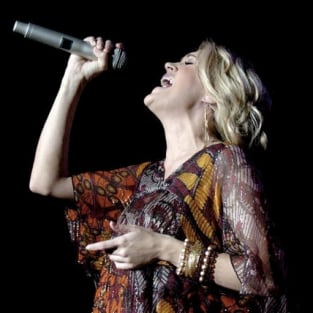 "She's a really big fan of me," Hannah said.
"No, you're a really big fan of her," parents Pam and Byron Pritchard corrected, laughing.
Karen and Danny Crocker drove from Smithfield to hear Underwood.
"I got him tickets because he's a Carrie freak," Karen Crocker said. "He's the reason she won American Idol. It was the speed dial."
The Crockers came to the concert with their 12-year-old nephew, Kyle Levin, who also called in votes for Underwood to win the singing competition.
The family is happy Underwood's stardom hasn't made her too big to perform in Fayetteville.
"I was kind of surprised. All the big cities she's going to, that she's coming to a county fair," Karen Crocker said.
Best friends Alyssa Like and Brittany Anderson, both 11, rode bumper cars on the midway as they waited for the concert to begin.
"I'm very excited," Alyssa said. "This is my very first concert."
Michelle Like, Alyssa's mom, is pleased the girls look up to Underwood.
"She's such an inspiration for children that age," she said. "We need more role models like her."
Debra Wheeler agreed. The British-born Fayetteville resident said she is impressed that a girl-next-door such as Carrie Underwood can make it big.
"I just think it's wonderful that in this country, you can go from nowhere and be known nationwide," she said.
Wheeler and her friend Mickey Demeo didn't go to Underwood's concert but spent their evening enjoying the rides and contests at the fair, which runs through Sept. 24.
"I absolutely loved the petting zoo," Demeo said.
It was Wheeler's first time at the fair.
"I think it's wonderful," she said. "It's a good mix of the rides and animals. It's very family-oriented. I like the fact that it's countrified but it's not too hokey."
Matt Richenthal is the Editor in Chief of TV Fanatic. Follow him on Twitter and on Google+.