Here's some information we've come across from around the world of American Idol. There's certainly a lot going on with our favorite stars, and we try our best to keep you updated! Below is our breakdown...
CARRIE UNDERWOOD
As you've probably heard, Carrie Underwood will perform at the Charleston Municipal Auditorium December 9. Tickets go on sale this Friday at 10 a.m.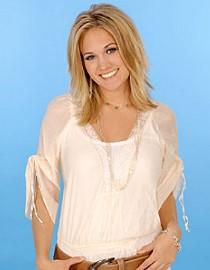 Speaking of Carrie, we caught her video for "
Before He Cheats
" the other day. Though she's come a long way from her simpler
American Idol
days, it is still not easy to believe she's the kind of girl who would bash her boyfriend's headlights in with a baseball bat.
Look at her! She's just too sweet! We don't buy the vengeful angle... we will, however, buy her music!
KELLIE PICKLER
Kellie Pickler's CD, Small Town Girl, is in stores as of today! Be sure to check out our review in a separate post, coming very soon. Kellie will perform her first single, "Red High Heels" on The Tonight Show Friday.
BUCKY COVINGTON
Bucky Covington and his wife are moving to Nashville today. We hear he plans to go straight to the studio to record some tunes. Good luck, Bucky!
ACE YOUNG
The new single from Ace Young, "Scattered," is officialy available for download on iTunes. We thought it was a little cheesy, to be sure, but it grows on you. And yes, his falsetto is on full display. As far as we know, though, Ace has not signed with any record label.
KATHARINE MCPHEE

Looks like Katharine McPhee's a little gutsier than I gave her credit for. Katharine was scheduled to sing "Over the Rainbow" at the Carousel of Hope Gala, but when she saw Whitney Houston in the audience, she changed to "I Have Nothing."
Considering the performance of that song that she gave on American Idol, it was certainly a testament to McPhee's courage to get up there and try it a second time. It paid off, though, as Whitney nodded her head in approval at the performance.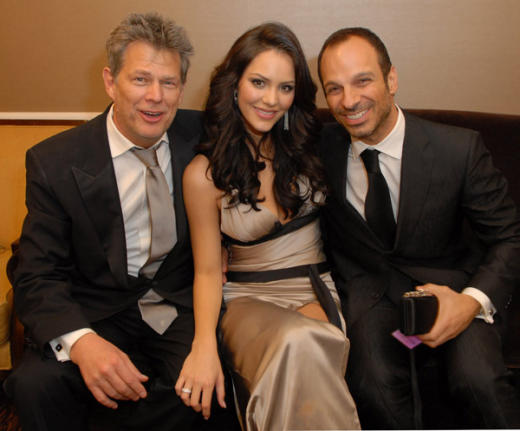 You might remember that Katharine (seen here with beau Nick Cokas, right, at the event in Beverly Hills) was roundly criticized by the judges after performing "I Have Nothing" On American Idol. The viewing audience, however, disagreed and voted her into the Top 2. Simon Cowell apologized to her on that week's results show.
TAYLOR HICKS
Taylor Hicks' CD release date has been moved to December 5, which means he will be after Katharine (November 28) and on the same date as Fantasia. According to GrayCharles.com, he continues to work on his upcoming album, 75 percent of which is complete.
The producers are beginning to mix some of the songs. If you, like many of his fans, are eagerly looking forward to seeing Taylor Hicks in concert, the Soul Man will start a three-month tour in February and plans to "play lots of different size towns, even smaller ones."
Hopefully, that's going to be a town near you.
CHRIS DAUGHTRY
Chris Daughtry's release date is still set for November 21, but he's ditching the first name thing... the release will come from Daughtry -- the Bon Jovi-esque name of his new band. Howard Benson, who worked with All-American Rejects and My Chemical Romance, is the producer. Chris says he realizes not winning Idol was better for him.
According to a blurb posted on puretonemusic.com, here are all 12 confirmed song titles (in sequence): It's Not Over, Used To, Home, Over You, Crashed, Feels Like Tonight, What I Want (featuring Slash), Breakdown, Gone, There And Back Again, All These Lives, and What About Now.
The site also reported that the song, "Sorry" will be exclusive to iTunes and the newly recorded acoustic versions of "Home" and "Crashed" will be exclusive to WalMart.
JOSH GRACIN
Josh Gracin's next CD, All About Y'all will be released in early 2007. I was a little worried about Josh since his original release date came and went and his website had not been updated in months. His new single, "I Keep Coming Back" is from the same songwriting team that wrote "What Hurts the Most."
KIMBERLEY LOCKE
The second CD released by Kimberley Locke, Based on a True Story, will hit the shelves of record stores in March 2007. It will be great to hear what the Supawoman has in store for us then!
CLAY AIKEN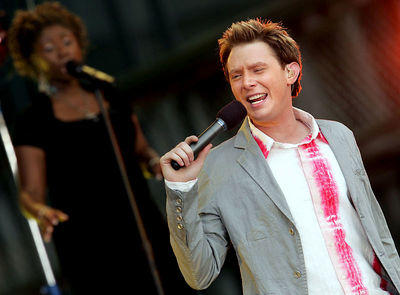 The one and only
Clay Aiken
is scheduled to appear on
The Megan Mullally Show
this Thursday, November 2.
And, as we reported last week, Clay will also appear on Days of Our Lives as himself December 22, serenading Steve and Kayla with "Everything I Have." Clay's version of "O, Holy Night" will also be featured in the episode.
Fantasia Barrino's single, "Hood Boy" is being released to radio. Her album is set to be released on December 12. You can listen to a stream at her MySpace. Lastly, Season 5 semi-finalist Patrick Hall releases his single "One For the Ages" tomorrow. The album, One For the Ages, will be available February 2007.
Matt Richenthal is the Editor in Chief of TV Fanatic. Follow him on Twitter and on Google+.