NOTE: We won't necessarily be able to come up with one this good every day, but if we do, you'll see it. American Idol Picture of the Day will be a regular, if not a daily, feature. The images we find for this feature may be timely, classic, touching, funny, or just plain strange. We feel this one falls under the latter.
It would be pretty hard to top our first-ever edition. In this pic, taken earlier this year at a Grammys on the Hill dinner in Washington, D.C., we have, from left to right: Embattled Congressman (and "sexually-charged IM" author) Mark Foley, Lou Gossett, Jr., our own Kelly Clarkson, producer Terry Likona, and American Idol judge Randy Jackson.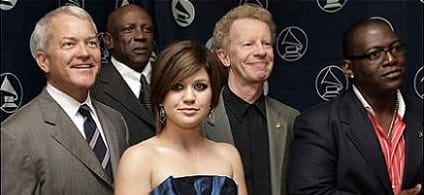 This collection of characters alone makes for a good head scratching, but what's really funny is that Foley and Likona look thrilled to be there, Gossett and Clarkson look utterly confused, and Jackson looks like he wants to be anywhere but there at that moment.
Matt Richenthal is the Editor in Chief of TV Fanatic. Follow him on Twitter and on Google+.