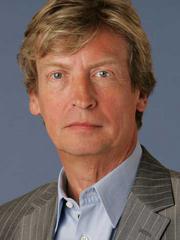 Really.
San Luis Obispo County, Calif., is about to be featured in a new reality series entitled
Corkscrewed: The Wrath of Grapes
.
The series follows two executive producers of American Idol, Nigel Lythgoe (right) and Ken Warwick, as they learn about owning a vineyard and making wine. The two friends purchased a 168-acre vineyard in San Miguel in the fall of 2005 and the show was born of their experiences.
The series will be made up of eight 30-minute segments and will launch on Fox Reality on November 22. Our only regret? No Simon Cowell berating their wine when it's not up to snuff! Now that would be worth watching.
The series began taping this past summer and is currently recording the exploits of Lythgoe's and Warwick's first harvest. At the vineyard, which they have renamed Villa San Michelle, they are growing Cabernet Sauvignon, Merlot, Zinfandel and Sauvignon Blanc grapes. The partners have retained Kent Terry, the previous owner of the vineyard, as a consultant.
Most recently, Lythgoe was an executive producer and judge on the Fox show So You Think You Can Dance and Warwick was the executive producer of NBC's America's Got Talent. The partners continue to be executive producers on American Idol as the highly rated show heads into its sixth season.
Matt Richenthal is the Editor in Chief of TV Fanatic. Follow him on Twitter and on Google+.