It's no secret that America's most popular show has spawned its share of successes... and those who have faded from the limelight pretty quickly.
A number of contestants, however, have surfaced on Broadway in recent months. How are our American Idol favorites doing? EW takes a look: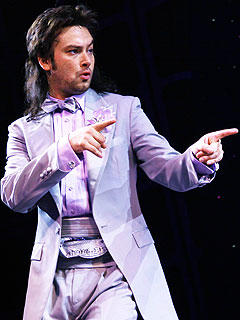 CONSTANTINE MAROULIS
SHOW: The Wedding Singer
GRADE: B+
Despite having won over millions from the beginning, Constantine Maroulis did not enter The Wedding Singer with much optimism from theater insiders.
But in this bizarre college-theater production masquerading as a big-ticket Broadway show, Constantine stood out as one of the top three things on stage. (He comes in right behind the woman playing Robbie's psycho ex-girlfriend Linda and the plane on a stick that appears in Act 2.)
Turns out everyone's favorite Greek rocker spent a summer as an apprentice at the Williamstown Theater Festival, and actually has a degree in musical theater from the Boston Conservatory of Music. A degree!
So it shouldn't be surprised to discover that, in his role as Robbie's bass player and best friend Sammy, Maroulis exhibits terrific comedic timing, not-terribly-awkward dance skills, and a New Jersey accent that's both convincing and consistent.
Audience members might be surprised, however, at how rarely Maroulis is the center of the show -- Sammy's sidekick status has not been elevated to compensate for the Idol vet's relative fame, and he's got but one big number, "Single," a boys'-night-out anthem in which he must concede spotlight space to chorus members.
Maroulis may have lost out to Carrie Underwood on American Idol, but the kid is a natural Broadway baby and he looks like he's having fun... imagine what he could do when not forced to sport a mullet.
FRENCHIE DAVIS

SHOW: Rent
GRADE: B+
Considering Frenchie Davis' status as the "bad girl" of American Idol (she got the boot from the show after nudie photos popped up on the Internet) many were hoping she'd be cast as Rent's naughty minx Mimi.
No dice. Instead, Davis smoothly integrates herself into the ensemble and shines in smaller moments as a bag lady, HIV support-group member, and mother.
It seems to take 525,600 minutes before we get to hear Davis' solo during the opening of Act 2, but time stands still as her powerhouse voice swoops and soars with emotion.
Her stage time may be limited, but her presence is Idol worthy.
DIANA DEGARMO
SHOW: Hairspray
GRADE: A
Hairspray is still the same toe-tapping, funny, good-intentioned hit that it's always been, but Season 3 runner-up Diana DeGarmo brings some much-needed strut and style.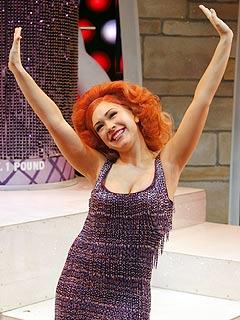 Unlike star Shannon Durig (as bouffanted big-boned girl Tracy Turnblad), who has big, break-out numbers from the get-go, DeGarmo -- as the lovable, bespectacled sidekick, Penny Pingleton -- toils in nerdville for most of the show.
But by contributing mostly giggles, audience-loving one-liners ("My mom's punishing me for going to jail without her permission!"), and a hunched-over, gum-smacking, Urkel-esque demeanor, Diana worms her way into the audience's heart -- fast.
Though she's a tad squeaky, it's perfectly Penny-appropriate, and DeGarmo takes it home during the final number, "You Can't Stop the Beat."
Reveling in Penny's glam new look -- a massive curly 'do and spangly violet minidress -- DeGarmo takes viewers back to her gospel-style Idol finale, channeling that same deep-throated roar and a generous helping of Christina Aguilera-style hand waving.
Note to Paula, Simon, Randy, and Ryan Seacrest: She's still getting our votes.
Matt Richenthal is the Editor in Chief of TV Fanatic. Follow him on Twitter and on Google+.