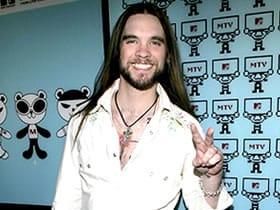 Bo Bice wears his heart on his sleeve. We're all familiar with that. It's his digestive system we're concerned about.
The American Idol runner-up underwent emergency intestinal surgery late last week in Nashville to hopefully correct a problem that has been plaguing him for a year, according to the rocker's official site.
So far, three Bo Bice concert dates have been postponed.
"After the first round of tests was completed last week, Bo's medical team concluded on review of the results that surgery could not wait, and he was immediately admitted to the hospital," Bice's management team said.
"The surgery was not easy or routine, and after a setback the following day, Bo is now recovering well under the supervision of his doctors and hospital staff. We are confident that Bo will have a complete recovery, and hopeful that this procedure will be the final resolution to the problems that have existed for the past year."
Bice, 30, was hospitalized September 26 after experiencing a relapse of his condition, which doctors have diagnosed to be intussusception (the folding of one segment of the intestine into another), an ailment Bo may have had since birth.
The Alabama native had to cut short his stint on the post-American Idol tour last August after undergoing an emergency procedure to remove an intestinal blockage. He had just finished recuperating from a broken foot, on top of all this.
In December, Bice was hospitalized after he coughed up blood, which was called a complication from the original procedure, and which forced him to cancel a performance at the Radio Music Awards in Las Vegas.
Although his onstage time has been hampered by health problems, it didn't stop the Bice Squad from digging his first single, "Inside Your Heaven," which debuted at number two on the Billboard Hot 100 and then overtook Carrie Underwood's version for the top spot. Bice's first solo album, The Real Thing, landed on the Billboard 200 at number four.
A month after coming in second to Underwood, Bice tied the knot with longtime girlfriend Caroline Fisher. The couple welcomed a son, Aidan Michael Bice, last September.
Matt Richenthal is the Editor in Chief of TV Fanatic. Follow him on Twitter and on Google+.