One star of Grey's Anatomy spoke out about an incident on set between Isaiah Washington and Patrick Dempsey that has sparked plenty of rumors.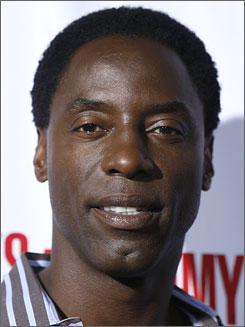 Unfortunately, that's
Katherine Heigl
.
Washington was to have taped an interview Tuesday with DeGeneres that would have aired today, but canceled -- citing a change in his production schedule -- after Heigl playfully warned DeGeneres yesterday to "step back" during Isaiah's appearance.
Various reports about the dispute have circulated, but Katherine appeared on The Ellen DeGeneres Show Tuesday and played down the incident.
"There was some scuffle. I don't know what the fight was about... It was something silly and manly. There was a little burst of testosterone in the room, and then within five minutes... they were totally fine and joking with each other and laughing."
DeGeneres, who is a lesbian, responded by saying Washington "better not call me a name ... I'll be swinging."
Washington has been under fire from the tabloids for a remark he allegedly made about T.R. Knight, who came out of the closet last week. The incident has not been verified by a credible source, however, and we were looking forward to hearing what happened straight from the horse's mouth.
It's too bad that he had to cancel his appearance, but one thing's for certain -- Washington isn't leaving the show.
ABC's Charissa Gilmore emphasized this, telling USA Today that Washington's status with Grey's Anatomy is fine despite the on-set altercation.
"We have no intention of replacing Isaiah," she said.
Steve Marsi is the Managing Editor of TV Fanatic. Follow him on Google+ or email him here.