After Josh Kelley completed his second album, Almost Honest, and signed the papers for a new home, the last thing on the singer-songwriter's mind was writing new material.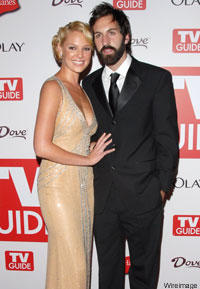 Until he fell in love with
Grey's Anatomy
star
Katherine Heigl
, that is.
"I've never been more prolific than when I'm with Katie," Kelley tells AOL Music. "Our conversations, kisses and her beauty inspire me daily."
To that end, the Georgia-born Kelley released Just Say the Word, a markedly personal effort, this summer.
Songs like "How the Story Goes" and "Bound to Keep Movin" are laced with musings on his relationship with Heigl, both borne from ecstasy and affliction.
"'Bound to Keep Movin' is a lash of frustration on the distance our professions keep between us. I wanted to give her a song that would make her feel confident in my love but also aware of my passion for music and the road," Kelley said.
The two got engaged over the summer. Despite conflicting schedules, Kelley says he does find time to support Heigl's art as she supports his.
"Sometimes I get to watch Grey's Anatomy as it's being filmed," he says. "Sometimes we watch it together. It's unbelievable how [Katherine] can take herself out of reality and watch the show as if she had nothing to do with it. I wish I could listen to my music for the first time. Unfortunately that's impossible."
Sounds like high praise for the talented young woman who plays Izzie... and like Katie has found a big fan in her future husband.
Steve Marsi is the Managing Editor of TV Fanatic. Follow him on Google+ or email him here.