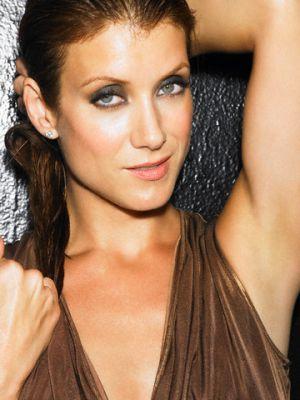 Life for
Grey's Anatomy
star
Kate Walsh
is all about hospital rounds.
That and drinks with a European prince.
Her character, Addison Shepherd, may have broken up with Dr. McDreamy, but Walsh, 39, isn't splitting from Seattle Grace any time soon.
The actress talked to People about heating up with Eric Dane (a.k.a. Dr. McSteamy), facing off against CSI and her first big splurge -- for which her handsome on-screen ex, Patrick Dempsey, is reportedly to blame.
Q: So what's the deal with the new guy, Eric Dane?
A: He's like a statue. Every time he pauses, he's just gorgeous. And so nice and so talented.

Q: Is this the end for Addison and Derek?
A: You'll see some interesting things play out. There aren't tidy beginnings and endings. It's always messy, and (no pun intended) there's always a gray area.
Q: Your character wasn't too popular with fans at first. Has that changed?
A: Even if fans want Derek to be with Meredith, they sympathize with Addison. She's just like every woman struggling to make a relationship work.
Q: Were you stressed about Grey's Anatomy going up against CSI on Thursdays?
A: Yeah, I was nervous. CSI is a great show -- I was in it! [She played a transsexual informant.] But they are two different animals. There's room for both of us. You know, that's why we have the TiVo.

Q: Do anything fun on hiatus?
A: I mostly did press. We went all over Europe promoting Grey's Anatomy. It's huge everywhere. [The cast] went to Monaco and got an invitation to dinner with the prince. My stylist said, "So I see on your itinerary, cocktails at the palace. Is that, like, the palace?" I was like, "Yeah, [it's] not a club... The palace!"

Q: Has your life changed in the past year?
A: I had one big splurge, which I am driving now. It's a 1985 Aston Martin convertible. When I moved [to L.A. seven years ago] I got a station wagon. Then I got a little car crazy. I have to say, Patrick Dempsey did influence me a lot in that area.
Q: Any buyer's remorse?
A: No! This was hand-built. It's gorgeous. An elegant British muscle car. It makes doing errands much more palatable.
Steve Marsi is the Managing Editor of TV Fanatic. Follow him on Google+ or email him here.