Millions recall when Mario Vazquez shocked the American Idol world by dropping out of the competition last year.
But until now, only a select few knew how weeks earlier, he gave one particular viewer a different kind of emotional jolt.
After a 16-year separation, Vazquez's father, Mario Rivera, was channel-surfing in his living room when he spotted his son on the show.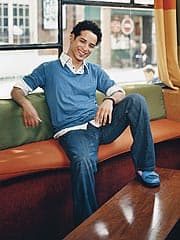 "He saw my audition tape and tripped out. He cried to my aunt, 'Mario's there! Mario's there!'"
Mario Vazquez
told
People
Magazine
.
Not long afterward, in that very living room, father and son reunited.
"My dad wasn't around when I was born," says Vazquez, who was raised by his mom, Ada.
Understandably nervous about seeing his father, the singer, 29 (whose self-titled debut album was released late last month), brought a gift for him and flowers for his grandmother and aunt.
"It was emotional. I'm not too big on crying, but I was definitely choking up inside. I want to have that bond fathers and sons have. I think we're almost there. And now I have twice the family I had before," Vazquez said.
Although the show worked wonders for his personal life, American Idol couldn't fulfill Vazquez's creative side.
"I felt (winning) Idol would be restrictive. I don't want anyone telling me how to sound or what to sing. That's why I'm an artist," he said.
So he dropped out to sign a record deal unfettered by the show, ending up with Arista (ironically, now the home of Idol winners Carrie Underwood and Taylor Hicks). He says his new album is "much dancier and edgier" than an American Idol version would have been.
Whether or not fans embrace the disc, he has no regrets about leaving the competition.
"I'd rather be known as the guy who got away," he said.
Matt Richenthal is the Editor in Chief of TV Fanatic. Follow him on Twitter and on Google+.