The USA Today American Idol blog has an intriguing range of comments on the general topic of Clay Aiken's album sales, which we discussed yesterday.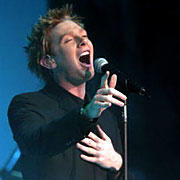 Widespread reports of insufficient stock at retail stores, conflicting accounts of many of his
fans
buying multiple copies, the feeling that his record label, RCA, and its CEO, Clive Davis, have abandoned Clay -- there's no shortage of debate about our man and his musical direction.
The covers concept for Clay's new album, A Thousand Different Ways, has taken some criticism in the media, and if you are among those who believe it's hurting Clay's sales, Davis certainly must take responsibility for the idea of the album.
But on the flip side, Clay has talked at length about the concept and why he believes in it, so who are we to say?
What we really find fascinating are the reports of RCA abandoning Clay, who has been a strong revenue-producing artist, but again, we're not exactly privy to the internal politics of the relationship there.
Maybe Clay Aiken could truly thrive if he escaped RCA and made a different sort of album? Maybe the superstar-level sales are still on the way? It's all conjecture at this point, honestly, but the ongoing debate is certainly interesting and we'll continue to follow it.
Matt Richenthal is the Editor in Chief of TV Fanatic. Follow him on Twitter and on Google+.