Devoted as they are, Clay Aiken fans not only honor their favorite singer, but each other! In the
Claymmys
(the group's annual contest for best pictures, stories, blends, etc.), our very own Idol Fanatic won the People's Choice award for best story. Her account of what it means to be a Clay Aiken fan, entitled "My Secret Life as a Middle-Aged Groupie" won out.
We've repurposed it below. Enjoy:
~~~~~~~~~~~~~~~~~~~~~~~
"I've got the music in me, sweet music in me; I've got the muuuuu-sic in MEEEEE!"
These words could well be my life's theme, as I have always liked or been involved in some sort of music. From the ear-splitting screeches of Violin 1 in fourth grade, to the constant practicing of piano and flute through middle school and on into college, I have been playing or singing since I was young.
So why haven't you heard of me on Broadway, or seen my name on the Pollstar charts? Well, let's just say that while the music may be IN me, what comes OUT of me isn't always something you'd pay to hear! God just asks of us to make a joyful NOISE unto the Lord. He doesn't say anything about it being on tune, in tempo, or in perfect harmony.
That is why I pay to hear others who are in tune, play magnificently, or can do the soft shoe while singing brilliantly. Concerts are a source of joy for me. Be they rock or classical, I have always shelled out the bucks for the musical acts that intrigued me.
Chicago, Three Dog Night, Bob Dylan (in Paris, no less!), Little River Band, Elton John, the Beach Boys, Billy Joel, Simon and Garfunkel, Gordon Lightfoot, Bare Naked Ladies, Train, Jars of Clay,
Kelly Clarkson
, Sandi Patty, Point of Grace, Itzhak Perlman -- the list of performers I've seen in concert goes on and and on.
I've purchased many albums, cassettes, and now CDs of these artists, and even have a deck of Beatles trading cards tucked away in a safe deposit box. While I may purchase a ticket to see a favorite artist if they pass through town, I've never made the effort to travel long distances to see them in concert.
If they come, I'll go. If not, then I'll catch them the next time they pass through town.
So what possessed me, in 2004, to get on a plane the day after Thanksgiving to fly to a concert? Two words: Clay Aiken.
My name is Michelle, and I am a card carrying member of the Clay Nation -- a Claymate, for short! It all started out in such innocent fashion. Season One of American Idol sucked my family into the vortex of reality TV, and we couldn't wait for Season Two to begin.
Ruben Studdard
and
Kimberley Locke
's voices were incredible, their look was not. Clay Aiken then entered the audition room in his geeky clothes, puka shell necklace, funky red/brown hair, and glasses. I knew the judges were going to crucify him. Then he opened his mouth and an amazingly strong and powerful voice came out of that skinny, geeky body!
Acerbic judge Simon Cowell hit the nail on the head with his "You've got a great voice, but you don't look like a pop star" response to Clay. It takes a geek to know a geek, and from that moment on, my heart was rooting for Clay. That comment by Simon was the catalyst for my Clay Aiken fandom -- everybody wants to see the "loser" win!
Each week I tuned in to see if Clay would last another round. He came in third in a group that included Ruben and Kimberley, was eliminated, and had to be invited back to compete in the wild card show to have any hope of moving on. He ended up being the viewers' choice, and the rest is history.
The finale pitted Ruben against Clay, with Kim finishing third. It had been a contest of great voices, atypical pop star looks -- although they all had makeovers. Clay was reportedly the top vote-getter once the final 12 were chosen, but lost by less than 1 percent of the total vote to Ruben.
What is it about Clay that inspires the insane devotion that his fans show towards him? Bright red hair, freckles, big ears and feet are usually not the stuff that causes women to stutter, drool, become tongue-tied, and make fools of themselves in a star's presence. Yet it happens every time fans meet him at a book signing or Meet n' Greet occasion.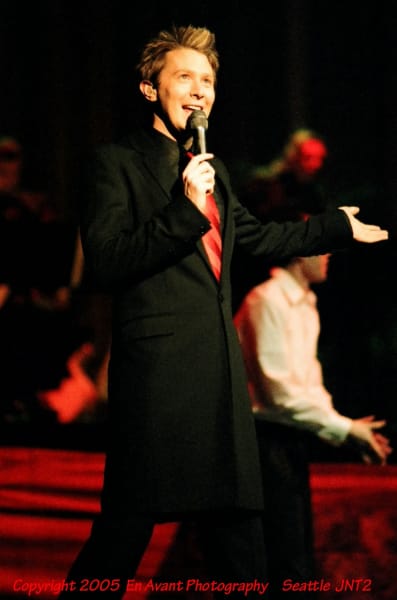 Grown women who run companies and have husbands and children shriek and swoon if he touches their hand in passing en route to his tour bus. I count myself among the possessed that have waited long, cold hours after a show in hopes of a handshake from Clay -- a chance to connect in some way.
Claymates have a slogan: "We came for the voice, we stayed for the man."
That best sums up the infatuation. Clay has proven to be a young man with a big heart and compassion for the less fortunate. Being a special education teacher was perhaps the catalyst for forming his own charity, the Bubel/Aiken Foundation, to help mainstream disabled individuals into mainstream activities.
His fans carry on his vision for inclusion, holding fundraisers before each concert. They also wrap gifts at bookstores during the Christmas season for his charity, while their own gifts are stuffed unadorned into gift bags.
Other singers and performers have charities; that can't be the total reason why he has amassed such a broad fan base spanning all ages. Seriously, what is it that makes people hop on airplanes to fly cross country and stay with people they have only met online to attend a concert together? Does Clay attract the kind of fans who, well, let's be kind, are losers in life?
Hardly!
In the two groups of Clay fans that I correspond with on a daily basis, each one is a professional in their field; from geneticists to magazine managing editors, these aren't ditzy women dressed in sweatpants and slippers who have no other ambitions in life than to follow a pop star.
The male fans, called Claydawgs, also host fundraisers to purchase play centers for local children's hospitals. They are every bit as invested as their female counterparts who research potential venues for concert tours, chart ticket sales and venue capacities, and post local hotel info for those flying in for a concert. It is a savvy, international fan base.
Virtual strangers have offered to pick me up from the airport and house me in their homes before a concert -- all because of shared love for a singer. Because we live in an online world, the computer is the thread that ties Clay Nation together. My computer skills were barely passable before joining the fandom. Now I speak fluent message board-ese, complete with a vocabulary unique to being a Clay fan.
We view clack (concert video or photos), and are warned to use our thudmats before viewing an especially "hawt" photo of Clay.
We "cellcert" from concerts to online scribes who type up what is happening and we strain to hear scratchy cellphone live concert transmissions via our computers. I have learned to upload, crop, and watermark my own concert photos for the fandom to enjoy -- all because of a red-headed singer hailing from Raleigh, N.C.
So why would a middle-aged woman like me be so taken by a young man who could be my son?
Sure, he sings like an angel, and nobody's voice has ever reached down into the depths of my soul like Clay's voice has. I admire him for steadfastly holding to his moral and Christian convictions and trying to walk the path that God has put in front of him.
His snarky sense of humor and quick, glib wit tickle my fancy. One minute I am enraptured by a particularly moving rendition of a favorite song, and the next I am laughing until the tears come. But truly, the main reason for being a fan is that I am having the time of my life!
Not knowing other local fans, I advertised on a Clay fanboard and started monthly Clayfan gatherings with soul sisters who "get it." We travel from concert to concert, and have crazy all night drives to make it to work on time. Clay Aiken pictures adorn our desks at work and at home, and our fandom is proclaimed on T-shirts, buttons, bumper stickers and satchels.
Mothers and daughters sit side by side at concerts and make party favors together. Radio station DJs and newspaper reporters call for interviews.
It is just plain fun to watch your teenager's eyes roll when they have to explain Mom's "fandom" to their peers.
Just like the current McDonald's TV ad where the teenage boys realize that the person who crowd-surfed over their heads at a concert is their teacher, don't be surprised if the person rocking out in front of the stage at the next concert is me! I am a middle-aged groupie and proud of it.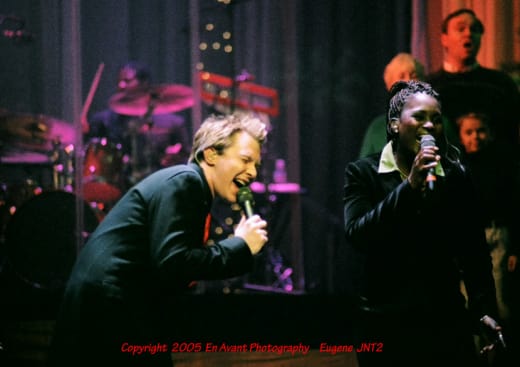 Matt Richenthal is the Editor in Chief of TV Fanatic. Follow him on Twitter and on Google+.