This week on the Round Table, McSteamy joins Seattle Grace, Izzie receives the surprise of her life, George and Callie break up, and Meredith is high on life (and morphine)...
Should Dr. Webber have brought McSteamy on board?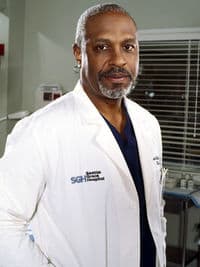 McCritic:
Mark Sloan
is the Alex Rodriguez of plastic surgery. The unmatched good looks, the unwavering confidence, the unlimited talent, the New York/Seattle connection. He's a top professional in his field, as the chief noted. But how has that worked out for the Yankees, Dr. Webber? Sloan may have succeeded within the confines of a private practice, but bring him into the public eye and watch him boot a routine case. He has to learn you can't spell "McSteamy" without "t-e-a-m."
AwayWithMerDer: Absolutely. Dr. Webber is running a business, and you need to separate business from pleasure. Unfortunately, the Chief had to make a choice: hire someone who's going to bring in a lot of money (twice that of Derek apparently) or make a poor business decision based on his relationship with Addison and Derek. I think Dr. Webber made a fantastic decision! This shouldn't shock us. After all, he did hire Addison.
iheartizzie: Last season, Richard chastised Derek for punching out Mark with his $2-million-a year hand. Based on the Chief's comments last night, we can assume Mark's hands are worth $4 million annually. Dr. Webber should consider taking out some insurance on these guys, because he's risking a massive financial hit if these former best buds should hit one another. [SIDE NOTE: How much are Dr. Burke's hands worth per year?]
Married-to-McDreamy: Yes. Despite the many distractions going on around him, Dr. Webber still takes his position as Chief of Surgery seriously and knows that bringing a nationally renowned plastic surgeon on board is a smart move. His job requires him to look past the personal conflicts and drama around him and make decisions that will benefit the hospital as a business. And Mark Sloan is that good.
Which couple will be back together sooner: Mark/Addison or George/Callie?
iheartizzie: George and Callie want each other badly, but communication problems are killing them right now. Unlike some people I live with, they're just not good at talking about feelings. But they'll be back. Soon.
AwayWithMerDer: Definitely Mark and Addison. Let's talk about how much Mark has been kicking butt. He sold his private practice and travelled across the country to work in a hospital (obviously for a fraction of the pay). He gave up everything for Addison. They'll end up together once Addison gets over herself. George and Callie? Not a chance. Come on, George doesn't even like Callie. I'm sick of his excuses. He's just not that into her. Callie, baby, you deserve better. Hopefully that night with McSteamy gave you back some of your confidence.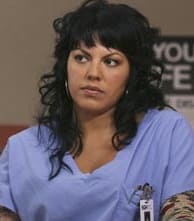 Married-to-McDreamy:
I'd like to say Mark/Addison, because they sure make an attractive couple, and one never knows what might happen when both are residing in the same hotel. On the same floor. However, I have a strong suspicion that George will realize what a mistake he's made, will apologize to
Callie
, and will win her affection back (if she's not too busy with McSteamy, that is).
McCritic: As long as there's an available stairwell, on-call room or janitor's closet, Mark and Addison will find time for each other.
Did Meredith make the right choice?
AwayWithMerDer: Okay, I'm going to surprise everyone here. Sure, you'd think from my screen name I'm going to say no. However, I truly think she did. Sure McVet is the better guy and should be the better choice. But you can't control who you fall in love with. She's obsessed over her McDreamy, and deserves to live unhappily ever after with him.
Married-to-McDreamy: The right choice? No. The obvious choice? Yes. We all know that Meredith doesn't always make the most responsible decisions. We also all know that Derek has always been "the one" in her eyes and there isn't much that this man can do to discourage Meredith from loving him. Unfortunately, she tried to do the right thing by considering Finn, but clearly Meredith had to follow her heart. All I have to say is: Poor Finn.
McCritic: Yes. Love isn't about falling for the best person. If it were, women would simply line up outside monasteries across the world. The emotion is beautiful specifically due to its unexplainable nature, it's unbreakable hold on one's heart. Meredith really had no choice at all. She had to pick the man who sexed her up so well after a slew of tequilla shots the first evening they met.
iheartizzie: Meredith followed her heart, and it's hard to blame her, despite McVet's many positive attributes. What surprised me is that she didn't find it a little troubling that Derek bowed out. He doesn't want to hurt her anymore, so he walked away -- thus signifying that he's pretty positive he's going to hurt her again. Doesn't sound like a guy who's sure of where his life is headed. Am I wrong?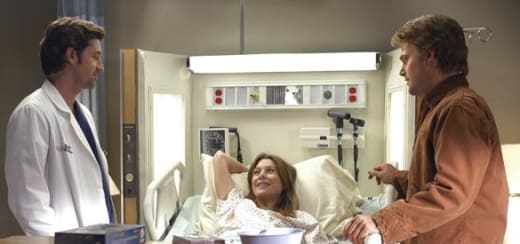 What will Izzie do with the money Denny left her?
Married-to-McDreamy: She will donate it to establish a brand new cardiac wing of Seattle Grace Hospital named after Denny Duquette. And maybe pay off the medical school loans of her fellow surgical interns.
McCritic: Hello? Cryogenic freezing for Denny's head, of course.
AwayWithMerDer: Izzie is by far the kindest character on this show. I can't imagine she's even going to keep the money. She's either going to give it to Denny's family or donate it to chairty. The better question is what I would do with the money. Mansion on deep water, Italian super car (I haven't had the luxury to test drive any yet to decide which one), and a boat (again, same problem). Guess I should have proposed to some dying, rich girl in the hospital, huh?
iheartizzie: Hedge funds. You can't lose.
Steve Marsi is the Managing Editor of TV Fanatic. Follow him on Google+ or email him here.