This is the story of Grey's Anatomy and ER, both of which air tonight.
Grey's Anatomy has been watched by an average of 24 million viewers this season, garnering the highest ratings on TV. Before this, ABC hadn't had a No. 1 hit on Thursday in nearly 30 years. ER was TV's big dog from 1995-1998, and a top-10 staple for the better part of 13 seasons.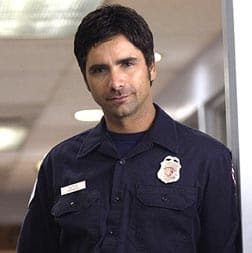 In terms of commercial potency, this has been one of the stellar hits in network history -- and remained so until senescence struck. With all of the original cast gone, ratings way down in 2005 and a prevailing sense that the show's creative arteries were sclerotic, this was expected to be the last season.
Now, take another look.
So far this season, ER is NBC's most-viewed scripted series (averaging 15 million viewers) and virtually tied with the network's hot Monday newcomer Heroes among younger viewers (both get 6.5 percent of adults ages of 18-49).
Once again, ER is winning its time period. Besides the fact that aging hits almost never reverse downward spirals, why is this unusual?
There are a couple of reasons. First, many believe ER is actually the best of the two Thursday hospital shows. Gone are last season's histrionics and violent nuttiness. The show has gotten back to doing what it always did best -- telling the stories of average people in extreme peril. The recent "Ames v. Kovac" episode with guest star Forest Whitaker was superb.
While the drama seems richer and sturdier than in recent seasons, the show has shrewdly added a stubble-faced counterpart to Grey's Anatomy's "Dr. McDreamy," played by Patrick Dempsey -- John Stamos (above) as Dr. Tony Gates. Stamos is the same vintage (43) as Dempsey (40), and both were late-'80s teen icons. Curiously, Grey's Anatomy is probably the key reason that ER is back on top.
"I didn't anticipate this. I was afraid that what the audience would feel is that if they saw one (hospital) show at 9, then they might not want to see another one at 10. I'm happy to say I was wrong," ER's executive producer, David Zabel, said.
What's happening is called "drafting" an audience from one show to another. If a program (Grey's Anatomy) on one network is a huge hit, then another following on a competing network gets viewers in its draft. ER appears to be as much a beneficiary as the ABC show that should be getting the assist, Six Degrees, which follows Grey's Anatomy at 10.
Networks don't like the draft effect, but the TV audience is fickle and uncontrollable, so they can't entirely eliminate it.
Steve Marsi is the Managing Editor of TV Fanatic. Follow him on Google+ or email him here.