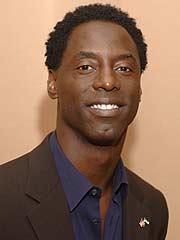 Isaiah Washington
says his on-set dust-up with co-star Patrick Dempsey last month was blown out of proportion and that everyone on the show is having "a great time."
At the opening night party for the Skin + Bones: Parallel Practices in Fashion and Architecture exhibit at L.A.'s Museum of Contemporary Art on Saturday, Washington was asked by People about the on-set argument and if things were all good on the Grey's Anatomy set these days.
"Everything was good on the set four weeks ago," he said.
He joked that he's bought stock in a tabloid-magazine company because they "make so much money off of us." The media coverage "was disappointing," he said, "but now I'm a shareholder. I'm a businessman."
Washington and Dempsey discussed the fracas (for which Washington later issued an apology in a statement) on The Oprah Winfrey Show in a special segment that aired Friday.
"I lost my cool, but it wasn't coming out of a place of animus for Patrick or (costar) T.R. Knight or anyone. It was coming out of a place of trying to stay focused about the work," Washington told Winfrey, who visited the Grey's set for the interviews. "I've been working with these beautiful men for three years now, and we had an argument as brothers. It came about at a time and a place that was overwhelming for both of us."
Washington clarified: "What it was not, was a brawl."
Patrick Dempsey says the ensemble is stronger after the incident.
"I think what happens is we needed to just be open and be able to communicate and not let things build up. I think we've come to that point where it's much freer to communicate with each other, and we're more relaxed because of it. I think the whole company's tighter," Dempsey said.
At the MOCA event, Washington added that working with Shonda Rhimes on Grey's Anatomy is the "opportunity of a lifetime." He added that he can't wait to see the Thanksgiving episode.
"Cristina and Burke have their opportunity to kind of get sweaty," he said. "It was a lot of fun."
Steve Marsi is the Managing Editor of TV Fanatic. Follow him on Google+ or email him here.