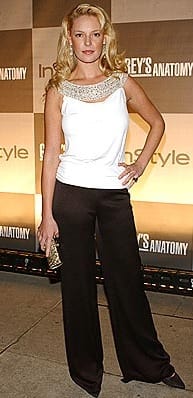 wants to know when she's going to get some action.
After seeing the other characters on Grey's Anatomy ride a perpetual roller coaster of hookups, breakups and makeup sex, Heigl went to her boss, show creator Shonda Rhimes, and asked why she's been left out.
"I said, 'Why doesn't Izzie get any action?'
"She said, 'Izzie doesn't sleep around,'" Heigl told the New York Post. "The writers incorporate a lot of our own personalities into the characters. I cook, I bake, I knit. Izzie's the super moral version of me."
As the heart and soul of this increasingly sex-filled series, Heigl has to take the high road - because nobody else on the show knows where it is.
Almost midway through the show's third season, Izzie has now become the show's heroine. It used to be Meredith Grey (Ellen Pompeo), queen of the romantic dilemmas. But lately, she's been a little dopey, what with the endless McDreamy soliloquies and all.
Then Cristina Yang (Sandra Oh) was in the spotlight, when it was revealed that she had a heart under her cutthroat exterior. As they go on the back burner, Izzie is a welcome, calming presence, despite the devastation she endured when she failed to save her patient and fiance, Denny Duquette.
After nearly derailing her career by violating hospital rules with regard to his care, Izzie, said Heigl, was not cut out to be a doctor. But the writers on Grey's Anatomy disagreed and gave Dr. Stevens a second chance.
"At the beginning of the season they were trying to show how lost Izzie was. She lost her optimism. She realizes now that life is difficult, but she still tries very hard to see the best in people," Heigl said.
Besides the formidable Dr. Bailey (Chandra Wilson), Izzie seems to be the only adult intern at Seattle Grace. Her character has achieved a depth lacking in her fellow interns.
"Denny's death matured Izzie in a very sobering way," says Betsy Beers, the show's supervising executive producer. "She's marked for life."
When Izzie is feeling more confident, Heigl hopes she will eventually Izzie have a relationship with Alex Karev (Justin Chambers).
"I believe on some level, there's a connection between Izzie and Alex," she said. "He can do honorable things even though he's cutting and sarcastic. I would like to ultimately see them together, if not this season, then next. Initially, she was trying to change him too much."
Despite all of Izzie's tragedies, Heigl is relishing her moment in the sun and the show's incredible popularity.
"It's so satisfying. It sucks being on a show that no one watches," she said. "The roles for women are really great on television and they really don't have that in film. You're lucky if you get to play the girlfriend."
Steve Marsi is the Managing Editor of TV Fanatic. Follow him on Google+ or email him here.